In this comparison of Kawasaki Vulcan 650 vs Honda Rebel 500, we will find out what both bikes have to offer their riders.
Many bike manufacturers try hard to build the biggest and meanest of the V-twin barges. Still, the mid-weight cruisers haven't gone extinct. All of the motorbike manufacturers build something in the range of 500cc and 1000cc. Some of them are the clones of Americana, while others are way more interesting, like the two we will discuss in this comparison.
Both these wheels have been making some vibes recently, especially in the entry-level market. They come with superior features, but nothing is too fancy or out of the box on offer. Both work nicely if you use them for your daily errands or commuting and even for recreational purposes.
But they are distinct from one another, and in this text, we will find all about it, so keep reading!
Industry History
Kawasaki
Kawasaki is one of the most recognized brands not only in the US but across the world. It was the first foreign vehicle manufacturer to open in the US as well. It started operation back in 1966 and sold its first 2-stroke bikes.
Later on, it added new lines of powerful engines, and the demand increased ten-fold. Since that time, the company has never looked back. It has set itself on a journey that aims to provide a high-quality user experience with comfortable rides by integrating power and safety.
The brand is synonymous with quality, and it is well known for providing its riders with a highly customized experience. This makes their bikes one of the most versatile to use for a variety of purposes.
Honda
Honda is among the top brands of the industry not only in the US but across the globe. These bikes outcompeted many of their already established competitors in the US market because of their affordability and quality. Honda also started its operations back in the 1960s and quickly found its way when it began the "You-meet-the-nicest-people-on-a-Honda" Campaign.
The campaign was an immediate hit, and Honda became a favorite of everyman. The movement quickly abolished the antisocial and challenging rebel stereotypes prevailing in the market during those days.
Honda is regarded as one of the best when it comes to vehicles with smooth operating engines. If you are looking for some great engineering work, you need to use a Honda. Honda delivers an exceptional riding experience with no unwanted engine sounds and vibrations, whether it's their entry-level rides or high-end bikes.
Kawasaki Vulcan 650 vs Honda Rebel 500 – An Overview
The Vulcan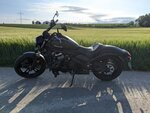 One of the best features of this motorcycle is finding the right fit for a comfortable ride irrespective of your height or weight. This cruiser takes its riders into the sporty realm.
It has a vintage style but provides you an aggressive ride with its 650cc engine. Whether you are looking to commute to work or enjoy your day trip, this motorcycle will add confidence to your ride.
It is a comfortable ride that looks very stylish and suits the needs of all. The color combination is great, and the overall design looks spectacular. Its handlebar, footpeg, and seat position well together for a very comforting riding experience. For the features it has, the price is reasonable as well.
This model is the recent addition to the midweight cruiser segment that doesn't come with many overheating issues like the ones occurring in Harley-Davidsons. You can comfortably use it for your daily rides, either for commuting or recreational purposes.
Its exhaust sound is good too, and ABS works like a charm similar to the braking system. Its mileage is around 15.5 miles per liter, and the top speed is around 105 miles an hour.
The Rebel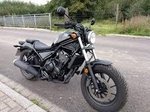 The Rebel 500 by Honda, on the other hand, sets itself apart from the realm of traditional motorcycles. It features a 471cc twin engine with a lot of user-friendly power. One of the best features of this bike is its lightweight and low seat height.
These are the two features that work well no matter where you go. It's essentially a cruiser bike that doesn't mind if you kick it up instead of most cruiser bikes that become only a fun ride when you ride them slowly.
This bike has a good pickup, and its power strain is decent as well. It has one of the smoothest engines in all entry-level bikes. You won't feel the clutch pull that it has, and its friction point is relatively distant. Brakes work very well, and so does the suspension for a comfortable ride.
Comparison Chart
| | | |
| --- | --- | --- |
| Features | Kawasaki Vulcan 650 | Honda Rebel 500 |
| Fuel & Vehicle Type | Gasoline Cruiser | Gasoline Cruiser |
| Fuel Tank Capacity | 14 liters | 11.2 liters |
| Displacement | 649 cc | 471 cc |
| Max Power | 62 hp | 46 hp |
| Max Torque | 64 Nm | 43.2 Nm |
| RPM @ Max Power | 7500 | 8500 |
| Seating Capacity | 1 | 2 |
| Weight | ~500 pounds | ~410 pounds |
| Gear Transmission | 6-speed manual | 6-speed manual |
| Front & Rear Suspension | Telescopic fork w/ monoshock | Telescopic fork with dual shocks |
| Front & Rear Wheel Size | R18 & R17 | Both R16 |
| Seat Type | Dual stepped | Single-seat |
Engine
Both these motorcycles feature a liquid-cooled engine boasting various displacements. Both of them are equipped with parallel-twin engines. The Rebel 500 features a 471 cc engine coupled with a 4-valve for each cylinder setup and DOHC. The Vulcan 650 comes with a 649 cc engine that also features a 4-valve each cylinder setup with DOHC.
Without a surprise, the Rebel 500 is less powerful than the two as it comes with the least torque and horsepower. It can produce 45.9 horsepower at 8500 rounds per minute and 32.9 pounds per foot at 6000 rounds per minute. It is because it has a smaller engine as compared to the Vulcan 650.
The Vulcan 650 can produce 54 horsepower at 7100 rounds per minute and 42.3 pounds per torque foot at 5600 rounds per minute. The Vulcan is significantly more powerful because it can produce more horsepower and a lot more torque. So, in terms of engine, the Vulcan turns out to be better than the Rebel.
The Vulcan 650 is Vulcan 500's spiritual successor, a small-capacity motorbike that embarrassed more prominent bikers because it had a revvy engine. This engine was initially built for the sportbike EX500 Ninja. It's not a traditional cruiser engine and inspired by design meant for better performance.
The Rebel is very much similar, but it is smaller in size. Its roots go to a sportbike as well, which is the CBR500R. Therefore, both the Vulcan and the Rebel achieve peak torque much higher than what an average cruiser bike would do. This is a kind of low-end grunt that most cruiser users want.
Weight
Next up in this comparison of Kawasaki Vulcan 650 vs Honda Rebel 500 is the weight. And this round will go to the Rebel as it is much lighter than the Vulcan that features a more significant and more solemn engine. The Rebel hits back nicely with a small motor and a total weight of around 414 pounds.
This motorbike has to be svelte because Honda uses the same chassis features a 286 cc single-cylinder engine for the Rebel 300. The only difference is that Honda's two models increase engine power as the chassis remains the same.
The Vulcan features a considerably heavier engine, and the overall weight of the motorbike is around 500 lbs. This is a much suitable weight for anyone who is an experienced rider. The riders who aren't that experienced should better go for the lightweight Rebel 500 because maneuvering this motorbike would be more comfortable.
As you can see, the Vulcan is more like a cruiser bike but has a sportbike engine. On the other hand, the Rebel is more tilted towards a sportbike design but has a smaller engine, making it a lightweight bike that will help you gain more speed.
Suspension
Now let's talk about the suspension in this comparison of Kawasaki Vulcan 650 vs Honda Rebel 500. There is not such a significant difference when it comes to suspension systems in both motorbikes. Neither of these bikes comes with a high-profile suspension system.
Both of them come with an essential pair of telescoping forks at the front end. The Rebel features a 41mm that comes with a 121mm travel. On the other hand, the Vulcan has a 41mm fork with a 130mm travel. But none of these machines comes with an adjustable suspension system on the front end.
The Rebel features a conventional twin-shock mechanism right at the back with 96mm of travel and boasts spring preloading adjustment. The Vulcan has a more funky arrangement featuring a mono-shock that is very similar in looks and performance if you compare it with the Ninja 650.
However, it only comes with a travel of 80mm, but it is preload adjustable. There is no clear winner in this round, and we will call it a tie here.
But you can say that with the same suspension on a less powerful engine, the performance will be a lot better than a more powerful engine because the system will have to handle a much more vital force from the engine. So, maybe, the odds are slightly in favor of the Rebel here, but it's only slightly and nothing too dramatic.
Ergonomics
Now we will discuss the ergonomics in this comparison of Kawasaki Vulcan 650 vs Honda Rebel 500. When riding the Rebel, we found it's exceptionally comfortable and a decent fit.
This bike has a wide and flat handlebar and the footpegs mount in the mid-height. So, controlling your bike is not an issue if you are a taller rider; these mid-pegs will not work very well for you, and you will feel cramped for some legroom. This is especially the case when you have low seat height as well.
On the other hand, the Vulcan is far superior and the winner of this round, but only if you like the feet-forwards sitting position on a bike. There is plenty of ergonomic adjustment available in this model for different individuals with different heights. These adjustments are available due to the factory accessories and stock parts.
Whether you have short arms or long legs, Kawasaki will provide you with different parts to make that perfect fit. There are different variations available here. The model is the same but with other parts installed. It's the same bike with different seating positions and parts.
The Rebel might serve as the base for the future line of bikes by Honda. And we will see plenty of improvements in design and various other features as well. But for the time being, the Vulcan has an edge here over the Rebel.
Electronics
Next up in this comparison of Kawasaki Vulcan 650 vs Honda Rebel 500 is the electronics. These machines come with ABS systems as standard, and that's it for all the electronic features. You won't find any leaning ABS or any traction control here.
But if you look at the total horsepower that each of these units can generate, you might think you don't need any electronic upgrades or features. Both these machines are budget-friendly in their respective way.
You won't find any stereos or any infotainment features or navigation equipment on these bikes. But that's a kind of trend that the modern-day bagger-style cruisers are following too. So, it's another tie here between these two models.
Aesthetics and looks
Next, we're going to talk about the aesthetics and looks in this comparison of Kawasaki Vulcan 650 vs Honda Rebel 500. They say beauty is in the eyes of the beholder, and in terms of looks, everyone seems to have his/her preferences. So, all these bikes will have their supporters and opposers.
Both these bikes will fall short for classic lovers because they both deviate from the traditional cruiser design. The Vulcan 650 is more of a muscle cruiser than anything else, while the Rebel brings in a slight sport touch.
But the opinions are going to differ a lot in terms of looks, and it's just a highly subjective matter. Therefore, you need to make your own choice based on what you think works for you the best. You might want to choose from different colors available as well.
Other brands like Harley-Davidson provide you with plenty of color options. But you won't find many options when it comes to Kawasaki and Honda. There are three colors available in the Rebel and a couple of colors available in the Vulcan.
Pricing
The showdown in the comparison of Kawasaki Vulcan 650 vs Honda Rebel 500 is regarding the price. The Rebel costs around $7000 while the Vulcan costs over $8000. Both these numbers are not going to be surprisingly low or high, and they are right there where they should be. 
If you are looking for a decent motorbike that packs some power but nothing too fancy, both these bikes will work for you quite well. The Vulcan costs a little bit more because it features a more powerful engine.
But it is more geared towards an experienced rider who wants to go for a peppy cruiser. For first-time cruiser users, the Rebel is going to be a much better option by far, and it will save you some money too.
Kawasaki Vulcan 650 vs Honda Rebel 500 – The Similarities
Both these machines might seem different in terms of looks and the engine type that they both come with. But some features are similar in both these models. And in this small section, we will discuss a few of them just for reference to make sure you pick the right choice based on your preferences.
Fuel and vehicle type
Both these machines run on gasoline, and both of them have that cruiser design. The Vulcan might have a Muscle Cruiser touch in it, while the Rebel might look like more of a sporty design than anything else. But they both are the variants of cruisers, and if you prefer to deviate from the tradition, these designs will work great.
Engine and performance
When it comes to both these bikes' engine and performance, there are some similarities to discuss. For instance, they both feature multi-plate wet clutch types and have 2-in-1 exhaust pipes with chain drives. They come with liquid-cooled cooling systems that are effective for riding in warm temperatures. Moreover, they have 4-stroke 2-cylinder engines with DOHC valve configuration.
Ignition and gearing system
Another feature similar in both these models is the ignition system, and they use electronic ignition systems. So, turning them on and off isn't that big of a deal. Both these machines feature a 6-speed gearbox with manual transmission type.
Additional features
These machines feature ABS and have two modes, including the Riding Mode and the Street Mode. They come with an engine check warning and a pass switch. Both the machines feature side reflectors, so you are easily visible to others on the road.
These machines also come with a digital display, an inbuilt speedometer, an odometer, a fuel gauge, and a trip meter. They both have disc brakes on both ends to provide you with plenty of stopping power.
Kawasaki Vulcan 650 vs Honda Rebel 500 – Pros & Cons
The Vulcan 650 Pros and Cons
Pros
This bike has an extraordinary muscle cruiser design.
It also comes with exceptional ergonomics.
The bike supports a powerful 649cc engine.
It comes with an anti-lock braking system.
Good choice for riders of all heights.
Cons
It doesn't provide a decent heat dissipation system from the rider's legs.
Its mileage and fuel tank don't go well with the 640cc engine configuration.
Honda Rebel 500 Pros and Cons
Pros
It's excellent cruiser styling with a sporty touch.
The bike is a good affordable machine.
It is a great choice for beginners.
It is incredibly lightweight and easy to maneuver.
The Rebel has smooth stopping power and engine operation.
Cons
Its suspension is a bit too much on the softer side.
Not a suitable option for tall riders.
Its instrument panel is difficult to read in sunlight.
Conclusion:
In this comparison of Kawasaki Vulcan 650 vs Honda Rebel 500, the winner turns out to be the Vulcan 650 purely because of its powerful engine geared towards a comfortable ride at higher cruising speeds.
This machine is also more easy-going if someone wants to join you on your ride. The Rebel is more of a solo rider, and for that reason, it is much lighter than the Vulcan.
Suppose you are an experienced rider who wants to go for a peppy cruiser with manual transmission and decent stopping power. In that case, you need to choose the Vulcan because it offers superior traction and suspension control. The Rebel is better suited for fast speeds and easy maneuverability.
The Vulcan provides you with a more customized riding experience based on your height, but it will only work well if you prefer to go for a forward-feet sitting position. But overall, the Vulcan is the winner in this comparison of Kawasaki Vulcan 650 vs Honda Rebel 500.
So, which one do you prefer; the lightweight design and easy maneuverability of the Rebel or the powerful engine with a more customizable ride of the Vulcan?