Jeans are always very stylish and comfortable to wear but can women wear jeans while riding a motorcycle? Of course, but style and comfort are not the only two things you need to worry about there.  
So, you have to pick the right kind of stuff to wear during riding. Whether you are on the bike at the back seat or area steering the bike yourself, you must be sure you are wearing a full-face helmet.
Apart from that, it will help if you also consider wearing long pants and boots to keep your legs and feet safe from any skids or direct impact. Protective gloves and a jacket should also be part of your bike apparel. Wearing logger boots to cover your ankles would be a better option as well.
This is very similar to what men wear, and there shouldn't be any difference between the two sexes, especially when it comes to safety. Style and fashion might vary, of course.
In this guide, we will shed some light on women can wear jeans while riding a motorcycle, so carry on reading.
Adequate Motorcycle Apparel
There are various options available for women to wear while riding. Of course, you have to keep yourself safe as well. So, your priority is a nice thick layer of clothing that also looks pretty slick.
Men at times don't worry much about style, and for them, it's all about comfort. But women have to be comfortable, and they also need to look stylish. Plus, you are riding a bike, so the clothing needs to be safe as well.
Here is a brief list of what you need to wear before you get on that bike and start riding.
A full-face helmet
You have to wear a full-face helmet and consider no other option at all. Even if you are going on a short ride, you need to wear it to keep yourself safe from any injury. Make sure to go for those half helmets or brain buckets, as some people might call them.
Unfortunately, these half helmets are not safe for you to use, and you have to go for the full-face helmet for complete protection. According to a study, these helmets are over 67% effective in preventing any brain injuries and 37% more effectively preventing any motorcycle deaths.
Wear long pants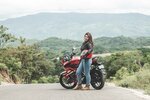 How about wearing shorts on summer days? Shorts may look sexy in summer, but they are not safe on motorcycles. You also need to make sure you wear long pants, and they need to be made of a thick layer of clothing. A thick pair of denim jeans can always work here, but it would be a better choice if you consider going for leather or any other synthetic material.
This is because leather and synthetic material pants are incredibly comfortable to wear, and they are much more durable than other fabrics like denim jeans. But denim jeans can always work as well if you are looking to change your style.
Go for long boots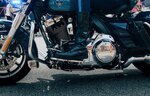 A better choice here for you is to go for long boots. Motorcycle boots for women are always a better choice because they are great for protecting your ankles. This might not be a great thing for fashion, especially for women, but there are so many ankle-covering full boots you can consider these days. They look pretty, slick, and stylish, and they will keep you safe.
Choose long sleeve jackets only
Go for long-sleeve jackets only because they will keep your arms safe against any exposure. The option for you to consider here is leather or any other synthetic materials. But don't go for faux leather because that is not very durable.
If you don't want to wear a jacket, wear something that will give you a complete cover, including your arms. Long sleeve jackets will keep you safe from accidents with some additional layer of protection, and they will also keep your skin safe from exposure to road debris as well as sunburn.
Wear gloves
Never forget to wear your gloves as well. Your hands need equal protection, and most of the riders tend to forget to wear them. When going for gloves, make sure you spend your money on a pair that keeps your hands safe in case of an accident. Just make sure that you go for any gloves and materials as long as they offer good protection against any impact.
Clothing that You Should Avoid
So, is there any clothing that you should avoid when riding a motorcycle? Well, at least for women, there are different types of clothing that they should avoid at all costs. This is because they are not designed for riding motorcycles. So, we will only focus on some of the articles that we have seen women wring while riding.
Don't go with high heels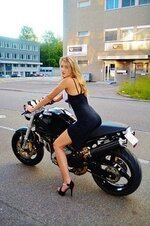 Don't wear high heels when riding a motorcycle. You will feel much more comfortable with your flat shoes when riding your bike. Also, high heels will make your life incredibly difficult on a bike. Shifting and placing your feet on those footpegs will be tremendously difficult for you. So, it's better to wear shoes with flat soles when riding motorcycles.
Never wear shorts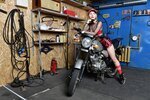 Wearing shorts might not be illegal, but it's unsafe for you. This can be a pretty tough pill to swallow on a hot summer day, especially for women. Unfortunately, your brain will not allow you to wear small clothes on a hot summer day.
But for your safety, you have to do that because you will have less protection while riding your bike with shorts. Your skin will be exposed not only to sunburn but to the heat from the engine and exhaust pipe as well. You will also have the worst injury possible when coming in contact with the road.
Skirts are not your friends
You will see a lot of women out there that ride with their skirts on. This is because wearing dresses on motorcycles is not very comfortable; women still love wearing them. But the thing is that your leg movement is very much limited with skirts, which will make it extremely difficult for you to maneuver your bike. This is especially the case with tight skirts.
Don't make tight buns or braids
You will have to make sure that you don't wear tight braids and buns under those helmets because they will be tugged down and will create pressure points that will be pretty uncomfortable for you to bear.
Try going for a low ponytail or a braid under your helmet. This is something men might not think about because they don't have very long hair. Also, make sure you prevent your hair from moving around under your helmets and coming in front of your face or eyes.
Can Women Wear Jeans While Riding a Motorcycle?
Now, can women wear jeans while riding a motorcycle? Why yes! Most women love to wear jeans not because they look pretty stylish but because we are all very accustomed to wearing them in our homes and elsewhere. Plus, these jeans are available in a variety of colors and styles too.
Though leather or synthetic metals are better options, not many styles, colors, or varieties are available. Moreover, jeans can be worn 24/7, and they don't need much care and attention either. In fact, the dirtier it gets, the better it looks.
These are some of the reasons why jeans are a preferred choice for all women and even men. Furthermore, these jeans are great to wear in any weather conditions because they are highly breathable.
In addition to that, there are no restrictions as well. You can easily wear any jeans on your motorcycle. Just make sure that the fabric used in the construction of the said jeans is pretty thick so it can provide you with some protection. 
Even if you want to clean your jeans, you toss them into the washing machines and take them out to dry on mild cleaning cycles. These jeans are pretty comfortable to wear, and they are pretty easy to maintain and clean. This is the exact reason why you can wear them on your motorcycle; they are made of a stronger, thicker fabric.
FAQs
Do women passengers and riders both need to wear jeans while riding motorcycles?
The list of adequate clothing for women on motorcycles is suitable for riders as well as passengers. Sitting on the bike while not operating doesn't mean that you somehow need lesser protection. Whether you are operating the motorcycle or are just sitting behind the back as a passenger, make sure nothing is exposed.
Do I need long pants while riding on the motorcycle?
Wearing long pants is always a good option and makes sure you wear long boots or cover your ankles. This is important because you need to protect your ankles from the engine heat. Plus, it will help if you also stay safe from getting directly in contact with the road in an accident. You might also end up with a tight sunburn on your ankles on a hot day if they are exposed.
Is there any other material that is good apart from jeans?
The most recommended fabric material, which is even better than jeans, is leather or other synthetic materials. Just avoid faux leather, but this material is always a top choice as it is breathable and comfortable to wear.
Conclusion
Therefore, the question of can woman wears jeans while riding a motorcycle has a pretty simple answer. And it's a yes as long as the fabric used to develop that pair of jeans is nice and thick. Such a pair of jeans work very well not only to make you look stylish. But it will also provide you with good protection against any road contact, engine heat, and sunburn.
Your skin will be less exposed if you wear long pants. The good thing is that there are different types of these jeans as well. And it is available in various styles and colors too. So, wearing a pair of jeans while riding motorcycles is a good option for women.