Sportbikes and roadsters are the two most popular types. Both offer tremendous maneuverability and exceptional speed. That is why we will do this match-up of Kawasaki Ninja ZX 12 R Vs. Honda CB1100 and see which of these come out on top.
Both these bikes pack a lot of horsepowers and are great for thrill-seekers. Apart from that, both are suitable if you are looking for more control over your riding experience. But we will see how do they differ regarding specs and features.
Let's dive into the comprehensive comparison of Kawasaki Ninja ZX 12 R Vs. Honda CB1100 to see which bike has what to offer.
Industry History
Kawasaki
Kawasaki is one of the significant motorcycle producers globally. It was the first overseas motorcycle manufacturers in the US. Right from the word go, the company focused on quality and engineering perfection. They continue to reign superior over other brands in terms of power and durability.
Honda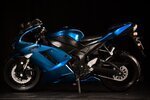 Honda needs no introduction because it has been on the top since the time of inception. Within a decade, the company became the top motorcycle manufacturer. Since that time, it has never looked back. It has produced quality bikes that are famous for their durability and superior performance. In these areas, Honda is second to none. The bikes that Honda produces are highly comfortable to ride. Honda doesn't experiment a lot and sticks to what it does best.
Kawasaki Ninja ZX 12 R vs Honda CB1100 – An Overview
The Ninja ZX 12 R
The Ninja ZX 12 R motorcycle is one of the brand's top-performing rides. It features 1199cc of displacement with its inline-four engine capable of producing 178 horsepower even at low speed. While at top speed, it can reach up to 190 horsepower.
It was the most powerful production motorcycle till the year 2006. After that, the ZX14 became superior. It can reach a top speed of 187 miles an hour. It is a powerful bike to ride the streets and highways.
The CB1100
The CB1100 by Honda is a roadster and comes with an air-cooled inline-four engine. It was introduced in 2010 and was succeeding the CB750, which is a powerful roadster.
This bike is very comfortable to steer with a powerful engine to give you an incredible riding experience. If you are looking for a versatile bike with everything, you need to choose and ride.
Comparison Chart
| | | |
| --- | --- | --- |
| Features | Kawasaki Ninja ZX 12 R | Honda CB1100 |
| Fuel and vehicle type | Petrol sportbike | Petrol roadster |
| Fuel tank capacity | 20L | 16.8L |
| Displacement | 1199cc | 1140cc |
| Maximum power | 178 HP @ 9500 RPM | 88.5 HP @ 7500 RPM |
| Maximum torque | 137 Nm @ 7500 RPM | 91.00 Nm @ 5500 RPM |
| Seating capacity | 1 | 2 |
| Weight | ~544 lbs | ~529 lbs |
| Gear transmission | 6-speed chain drive | 6-speed chain drive |
| Front and rear suspension | The inverted telescopic fork and gas-charged bottom-link | The telescopic fork and twin swingarm |
| Front and rear braking | Dual and single disc | Dual and single disc |
| Wheelbase | 56.69 inches | 58.5 – 58.7 inches |
| Seat type | Single | Dual stepped |
Engine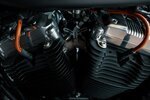 Let's talk about the engine type and its performance for each of these bikes in this comparison of Kawasaki Ninja XZ 12 R Vs. Honda CB1100. The Kawasaki Ninja ZX 12 R can produce a top speed of up to 187 miles an hour with its 1199cc engine featuring a four-stroke liquid-cooled configuration. The liquid-cooled engine performs well at high speed, and you won't have to deal with any engine failure at all.
In comparison, the CB1100 comes with a 1140cc inline-four engine as well, and it's very similar to Ninja features. However, it is cooled with air and liquid, delivering far more reliable performance because it won't heat that much.
Finally, this round goes to the Honda CB1100 with its ability to maintain its cool.
Weight
Now, let's talk about these machines' weight in this comparison of Kawasaki Ninja XZ 12 R Vs. Honda CB1100. The Ninja weighs closer to 550 lbs, so it will need a lot more effort from a skinny rider to control and maneuver. If you are not a pro, this bike will cause a few problems when handling and maneuvering.
In contrast, the Honda CBR1100 is slightly lighter, but it weighs around 530 lbs. It is much better to ride on the streets. So, maneuvering and handling will be a lot easier here. But for a skinny rider handling, it will still be a bit of an effort. So, it's a pretty much tie in this round, with the Honda having a slight bit of an edge in easier handling than the Kawasaki.
Suspension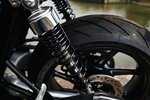 It's time to talk about the suspension in this comparison of Kawasaki Ninja ZX 12 R Vs. Honda CB1100. The front-end Kawasaki Ninja is equipped with an inverted telescopic fork suspension system with an adjustable preload, and it comes with a wheel travel of 4.72 inches. The bike features a gas-charged bottom link chock on the rear end, and it can manage wheel travel of 5.51 inches.
Honda CB1100 also comes with a telescopic fork on the front and features wheel travel of 4.2 inches. A twin swingarm is attached with shock absorbers and an adjustable preload and manages wheel travel of 4.5 inches on the rear end. This round goes to Kawasaki because its suspension system features higher wheel travel it means it comes with a softer suspension for a more comfortable bump-free ride.
Ergonomics
In terms of the overall riding comfort, both these bikes are close to one another. The Ninja is comfortable for a sports bike. It has an easily reachable handle and a comfortable seat. But for a shorter rider, this seat is a bit higher, so stopovers won't be that comfortable.
On the other hand, the CB1100 is comfortably low, and a shorter rider can easily handle the bike in various scenarios. It is a great choice for riding for longer sessions. Apart from that, the CB1100 is much better in handling, and for this reason, this round goes to the Honda CB1100 in this comparison of Kawasaki Ninja ZX 12 R Vs. Honda CB1100.
Aesthetics
A sports bike will look like a sports bike, and similar is the case with the Ninja ZX 12 R. If you are a fan of this classic SBK look, you will instantly fall in love with the Ninja. However, if you are looking for something you can ride more on the streets and on an odd occasion, you can take it on the highway and consider going for the CB1100.
It has a much closer look at a traditional motorcycle, but some serious upgrades are all around. So, the roadster looks more like a modern-day ride.
Kawasaki Ninja ZX 12 R Vs. Honda CB1100 – The Similarities
Fuel and engine type
Both these machines might look completely different, but they come with similar engine types. They both run on petrol and are equipped with an inline-four engine with 16-valve DOHC. The only difference is that the Kawasaki has a liquid-cooled engine while the Honda features air and oil-cooled engine.
Transmission and gearing
Both these machines come with a 6-speed transmission system and run on-chain drives. Therefore, both systems' maintenance and replacement are similar, and no bike is advantageous over the other.
Braking system
Another similarity in both these bikes is the braking system. They come with a dual-disc braking system on the front end and a single disc braking system on the rear end. So, both the machines are extraordinary when it comes to their stopping power, which is much needed, especially when traveling at higher speeds.
Added features
Both machines are equipped with LEDs on both ends, and they feature turn signals. They have very comfortable seating with a relatively larger fuel capacity. The CB1100 features heavy-duty and durable steel construction. In comparison, the Ninja comes with a streamlined aluminum design. And they are suitable for the riding experience that they can provide you with.
Kawaaki Ninja ZX 12 R vs Honda CB1100 – Pros & Cons
Kawasaki Ninja ZX 12 R
Pros
Built for speeds
Quality suspension
Aerodynamic
Cons
Honda CB1100
Pros
Stylish looking
Easy handling and maneuvering
Very comfortable
Cons
Conclusion
Both Honda and Kawasaki are the leading motorbike manufactures for decades. Some riders love the Ninja series for its speed while others praise the riding comfort and durability of Honda CB series. In this comparison of Kawasaki Ninja ZX 12 R Vs. Honda CB1100, the winner is Honda CB1100 for riding comfort.
In terms of performance and engine power, the Ninja has the upper hand. But both these rides pack a lot of power and durability. They are extraordinary and provide you with a ride that you will love and enjoy.