Feeling Indecisive in the comparison of Suzuki vs. Kawasaki vs. Yamaha vs. Honda? Then you are not alone. These are the top-selling brands in the motorbike world. And to make the best choice, you need to do some research and understand your riding preferences.
Choosing the best one form Suzuki vs. Kawasaki vs. Yamaha vs. Honda can be tricky. These brands focus on different areas to distinguish themselves from the competition. They have been doing it for a long time.
Here we will discuss some features that each of these brands has and how they are different.
So, let's begin!
Comparison Chart
| | | | | |
| --- | --- | --- | --- | --- |
|   | Suzuki | Kawasaki | Yamaha | Honda |
| Best for | Racing, cruising | Racing, Cruising | Street rides, Cruising | Racing, Street rides |
| Electric bike | No (in the pipeline) | No (in the pipeline) | Yamaha PES1 | No (in the pipeline) |
| Top bike | Suzuki GSX R1000 K5 | Kawasaki Vulcan 650 | V-Max 1700 Yamaha | Honda Rebel 1100 |
| Budget | Expensive | Affordable | Expensive | Moderate |
| Suspension | Stiff | Soft | Soft | Stiff |
| Engine | Powerful | Average | Powerful | Average |
Suzuki vs. Kawasaki vs. Yamaha vs. Honda – The Difference
Suzuki:
Let's begin our comparison of Suzuki vs. Yamaha vs. Kawasaki vs. Honda by talking about Suzuki first. Suzuki is one of the top brands in the global motor vehicle industry since 1909. In 2016, the company became the 11th biggest automaker globally. But it started making motorcycles in 1952 with motor-powered bicycles.
Two-stroke engines were introduced in 1955. The company never looked back. It continued to innovate and brought new models that feature better performance and reliability. This brand's primary focus has been racing. Therefore, you will see a lot of Suzukis rolling on the racing tracks.
If you are looking for speed and performance with excellent road grip in various conditions, Suzuki is the brand you need to consider. The company has introduced a wide range of racing models that are suitable for different speeds.
Suzuki's specialty
Suzuki has been making some news recently in the racing world after winning the MotoGP world championship in 2020. The brand has focused on racing and participated in global events for a long time now.
The company has brought laurels on multiple occasions. Suzuki focuses not only on equipping their bikes with reliable engines but also on making the design very aerodynamic. They made sure that the riders face the least amount of wind resistance during the ride.
But for the regular consumer, Suzuki focuses on bringing high-powered bikes at an affordable price. And this is where Suzuki lacks strength. Suzuki considerably scales down the features of budget-friendly models at a lower price. You will notice the price tags are high at higher-end bikes, but you're getting a lot of power behind the wheels too.
Kawasaki
Kawasaki is relatively newer than the other three. It produced its first motorcycles in 1963. But by no means, you undermine the machine's potential that comes out with the brand label.
Kawasaki motorcycles have big engines on them. Therefore, if you are looking for some power on the road, you need to go for this brand. Kawasaki has been regularly taking part in the world of racing. But it has also diversified at the same time and has been producing cruiser bikes and touring bikes.
One of the best Kawasaki bikes is Vulcan 650, with an affordable price tag. The brand is also focussing on making an electric bike. And it will soon introduce in the regular consumer market, showing progress and answering the market demands.
Kawasaki's specialty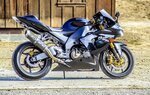 Kawasaki is famous for its powerful engines. It also means that these bikes will be heavier because they pack so much power. These bikes are robust in construction. So, if you are looking for those long-distance rides, then Kawasaki is the brand you need to go for.
Subsequently, the more significant engines also mean that fuel consumption is going to be high. Your bike will also need a lot more care and maintenance. And this is something where the brand slightly lags.
Kawasaki is the brand you need to go for some serious power and a heavier motorbike. One downside here is, their models don't come in many colors or styles. So, you will have to sift through the options carefully.
Yamaha
It came into being in 1955 and produces motorcycles and a variety of marine products and motorized equipment. Yamaha has also featured several races since its inception. But its primary focus has always been a lot more diversified than that.
Yamaha has been producing quality street rides as well. Therefore, it has always had a more differentiated approach towards its business. Consequently, its primary focus has been producing racing and regular consumer bikes.
For this reason, these bikes are highly reliable and one of the top-performing rides available on the market. Riding comfort is always a top priority for the brand. Besides, it has recently focussed more on looks and styles. If you are looking for a different design and a color variety, you need to consider Yamaha.
Yamaha's specialty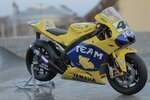 Yamaha is the company that has shifted its focus according to consumer demands. They believe in superior quality, exceptional performance, and reliability.
In the beginning, Yamaha began competing in the global racing event and performed well. But later on, it diversified and started producing bikes for regular streets as well. Now the company's primary focus is to provide the consumer with several designs and finish options.
The company has gone way beyond its competition to provide this variety. You will always find the right color. There are so many different styles available to choose from, and they all cater to various customer bases.
You will only find 3 to 4 colors at max in a specific model from other brands. On the other hand, Yamaha will provide you with 6 to 7 colors or even more. Since there are different types of models, you can choose from them conveniently.
Honda
Honda is another top brand in automobile manufacturing. It was the 8th highest automobile manufacturer in the world in 2015. Furthermore, it has been the most extensive motorcycle producer in the world since 1959.
The company's history is massively plagued by WWII that didn't stop the company from growing and becoming what it is today.
Honda introduced its first motorbike back in 1949. Within 10 years, it became the highest motorcycle producer in the world. It also introduced its first automobile in 1963 and is now looking to introduce electric vehicles.
Honda's legacy has been truly inspiring, and it has made progress by leaps and bounds, thanks to its dedication to quality and reliability. Without a doubt, Honda makes the most dependable motor vehicle, including the motorbikes in the world.
Honda's specialty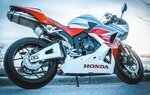 Honda is the name that is synonymous with quality and reliability. Honda engines are extremely powerful and continue to perform very well.
You won't have to deal with any issues over time, and this has been the motto of this company right from the word go. Honda has been competing with others primarily due to its engine's performance.
This is the reason why Honda has successfully secured its fan base no matter which market it enters. It has been competing in the global races, and it has also produced quality street bikes and cruisers.
While you might get different specs in different models, there is no question about this machine's quality and reliability. It is also one of the smoothest running machines on the market with a very distinct sound. 
FAQ
Which is better: Honda or Kawasaki?
Honda is more reliable and dependable in terms of quality and durability. The brand sticks to what it does best and doesn't experiment a lot. But for the quality built and construction, you are also paying more. Kawasaki is also focused on design and comes with powerful engines. But in terms of durability and solid ride quality, Honda is the winner.
Is Kawasaki better than Yamaha?
Kawasaki is better than Yamaha because its built quality is around the level of Honda. It also comes with powerful engines and sleek designs. You will get plenty of design, features, and color options. The fit quality is average, but it's not going to last for a long time to come. So, Kawasaki is the better brand here.
Are Suzuki and Kawasaki the same?
No, Suzuki and Kawasaki are two different companies, and Suzuki doesn't own Kawasaki. Both the companies entered into a business partner relationship a few years back. They made a joint motocross bike and shared some tooling.
Which is the best Japanese motorcycle brand?
Honda is by far the most reliable and top-quality Japanese motorcycle brand. They make quality engines that perform for a long time.
Conclusion
In comparing Suzuki vs. Kawasaki vs. Yamaha vs. Honda, the ultimate winner is Honda primarily because of its reliability and attention to detail in making motorcycles. There is a reason why it has been the leading global motorcycle manufacturer since 1959.
When comparing Suzuki vs. Kawasaki vs. Yamaha vs. Honda. Honda has been well known for its street bikes, cruisers, and sportbikes. It is entering the electric bike market very soon. Honda is the top brand that sells its products with a high price tag and high quality.