Is it a good idea to get a low-displacement touring bike for your next trip? Well, it might be one, but you need to make a decision based on various factors. Touring bikes are versatile in their design and use.
These bikes are heavy because they come with high-capacity engines. Of course, they can carry some stuff with plenty of features. So, when going on highways, these bikes need to have a super-powerful engine. It also means these touring bikes become heavy to handle as well.
But what about the low-displacement touring bikes? Well, these bikes are pretty good as well, but they come with smaller engines. So, they will not match any of those high-end touring bikes in terms of performance, but they can certainly get the job done.
You might be asking, is that even possible? In this guide, we will answer this question in a bit of detail, so keep reading!
Why is It a Good Idea to Get a Low-Displacement Touring bike?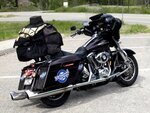 Touring bikes are powerful motorbikes that are designed for long journeys. They can handle all kinds of conditions and provide you with a balance between speed and power. They are smack in the middle of sports bikes and cruisers.
You are getting the best of both worlds here. These days touring bikes come with plenty of muscle power. It means they are equipped with bigger engines. You can load them with all the gear and stuff you need once you reach your destination and reach there quickly.
Most of them can range from around 1200cc to 1600cc. With these bigger engines, they can produce more power to run all kinds of gadgets and carry your gear.
Why Are Touring Bikes Great?
Touring bikes is great because you can add as much load as possible to go on long tours, whether you are looking to camp at your destination or want to enjoy a small barbeque outdoors.
These bikes will provide you with every chance to pack as much as you require and start riding. You are getting comfort from the ride as well, so there is so much on offer here.
Their engines are big, so you don't have to worry about your bike's underperformance here. The modern-day tourers come with all the infotainment features to make your ride as comfortable and as enjoyable as ever.
What's The Bad Thing About Low-Displacement Touring Bike?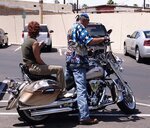 The bad thing about these touring bikes is that they are cumbersome. Handling and maneuverability become a considerable concern here for the rider. If you are a skinny person, this type of bike is not the right option.
Even a muscle maniac can have a pretty tough experience in handling this type of bike. These bikes are meant to be heavy because they can become stable with weight, and you can use that momentum in your ride.
On the highways and long roads, this might not be a big issue. But when you go through those tight corners, things get pretty rough. You won't be able to control your bike conveniently at all.
It is as if these bikes are designed to be ridden straight and not through turns with short circles. No matter what features these bikes come equipped with, maneuvering and handling are never the best on these tourers.
Why Touring Motorcycles Have So Much Weight?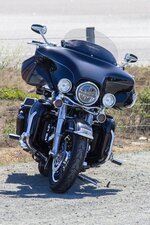 These touring motorcycles are pretty heavy, and you need to be very careful in handling them on short turns. But this wasn't the case as always. Touring bikes used to be somewhat lightweight bikes in the past. Even now, you can find some touring bikes that are not much big and heavy. But the number is pretty much underwhelming.
But why are the modern-day tourers gaining so much weight? The reason behind that is more and more manufacturers are equipping these bikes with various features. The most prominent of them is the full infotainment system.
These systems feature good-sized speakers that you can use for listening to your favorite tunes. Plus, you can use these systems for navigational purposes. They come with large LED screens, and you can do so much with them.
Of course, with such equipment already there in your bike and you will be loading it with your stuff, its overall performance will decline significantly.
So, the manufacturers came up with a solution for this portable, equipping it with bigger engines. This ultimate adds even more weight to the equation. And this is the main reason why touring bikes of the modern era are pretty heavy and bulky.
Should I go for a Low Displacement Tourer?
Whether for information or entertainment purposes, these systems are there to serve a need. This need might not be the same for all. And if you think the same way, you can skip such features altogether.
In this regard, you will have a bike that won't entertain you much, but you will be able to shed some weight. Of course, with some less weight, this type of model will come with a relatively smaller engine as well.
But there is a catch! Of course, you will have a touring bike that will not weigh much with all the so-called "needless" features not there. But it won't take much load as there is no powerful engine.
So, you are going for a touring bike that is easier to handle and maneuver at the cost of a powerful engine. And this is where the question comes in "is it a good idea to get a low-displacement touring bike."
Of course, with a low-displacement bike, the engine won't have that much dragging power. But with a smaller engine, you won't be able to lay it up that much as well. So, if you think you are not going to go on extremely long trips, going for a low-displacement touring bike is not a bad option.
The Concept of Lightest Touring Motorcycles
Might you be thinking you are the first or the only one asking this question, "is it a good idea to get a low-displacement touring bike"? But that is not the case! Many people out there are thinking the same way, and it's a pretty valid question.
If you are not going to use any of those features, why should you go for a bike with them? Why not go for a bike that focuses on speed, handling, and maneuverability. And thankfully, the market comes with multiple options as well that are pretty lightweight and speedy.
But the concept of lightweight touring bikes doesn't mean you are entirely compromising on the overall power output or tank range. The thing is, the weight of your bike will affect you on your rides more than anything else.
What's so good about these lightweight tourers?
The best thing about these lightweight tourers is that they are much easier to handle and maneuver. It means they become much more versatile to use. You can use them on your highways, and you can use them in your streets. You won't have to deal with balancing issues or weight distribution while riding as well. It is just about your overall riding comfort.
Less weight when you are riding is always a good option. In addition to better maneuverability and handling, you will have more control over your bike.
More horsepower is already a second fiddle to most riders?
Riders these days are not going for the performance of a bike that is baked on amped-up horsepower. People know and understand that most of the 200 HP will not be usable on the roads in the real world. Therefore, going for high displacement isn't much of a thing anymore.
Moreover, a bike with more torque and horsepower, so the manufacturers have also increased its overall engine capacity. And this is only because the bike itself weighs a little when you add your gear to it. The bike becomes even heavier.
More weight means some additional skills and experience to handle your bike and have better control over it. This is precisely why beginner bikes are nimble and lightweight.
It's all about machine control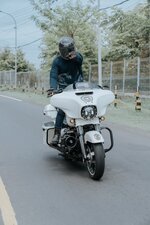 When you are not on the highways and are riding around the town, you will be riding at low speeds. And for that, you will need more control over your machine. Therefore, you will need bikes that are more mobile and lighter. Cumbersome and hefty bikes are not the right option in such conditions.
But even if you are riding on the frontiers or highways, you create more drag with more weight. Dropping and breaking your tourer on a road that is not smooth might leave you stranded for days. This is precisely why more riders opt for lighter touring bikes.
Even the adventurers go for the lighter stuff because they know it is much easier to handle on rough terrains.
FAQs
Are you touring bikes fast?
Touring bikes are not that fast if they don't have big engines. Most touring bikes provide you with stability and balance when riding with a lot of weight.
If you are looking for speed, you need to go for the lighter tourers because they come equipped with smaller engines with low displacement and are pretty brisk. But they are not going to carry much weight on them either.
Is a low displacement tourer a good option?
A low-displacement tourer is a good option for you to consider if you are not looking to carry a lot of gear with you. These bikes with lighter engines might not be that powerful but are way easier to handle and maneuver.
It's all about machine control. So, your low-displacement tourer is not going to be an entirely useless ride for you. It will give you more ride control than any of those hefty touring bikes.
If lightweight tourers are so good, why are manufacturers making hefty touring bikes?
They are making hefty touring bikes just because they are providing the users with various infotainment features. These features include the likes of some heavy speakers, music systems, navigational equipment, and much more. But if you have your gear on you all the time, these features might not be needed on your touring bike.
In this scenario, you can omit them from your list altogether. There is a market where people prefer to go with such options. But the good thing is that there are lightweight tourers as well for more practical users.
You can go for a heavier one as well. A heavier bike has its advantages, such as it can carry more load and is much more stable on highways, etc. It's just that you will need more skills in handling your bulky bike, and that's it.
Is it mandatory to go for a large tourer for a long-distance?
No, it's not mandatory to have a larger, heavier bike to go on a long-distance tour. You can go for some mid-sized touring choices as well. The engines of these motorcycles will be around 600cc to 1000cc and are great for long distances.
What is a mid-sized touring bike?
Just a few years back, 1000cc on a motorcycle was considered to be pretty big. But some of the best touring bikes on the market today come with 2000cc displacement. They can weigh around 1000 lbs. Therefore, the modern mid-sized touring bikes come with an engine around 650cc to 1000cc, which is considered "medium-sized" for contemporary touring bikes.
What is great about these mid-sized touring bikes?
Mid-sized touring bikes are efficient in their approach. They are lighter and much more compact as compared to a full-fledged touring bike. Most bikes in this range have 2-cylinder engines. And the best part is, you can use these machines in the streets just like your regular roadsters.
Are there drawbacks to these mid-size touring bikes?
Due to their smaller sizes, they have a lesser carrying capacity and are least stable. They also have lesser protection for the rider.
Conclusion
So, is it a good idea to get a low-displacement touring bike or not is entirely up to you. If you want fewer entertainment options for better engine performance and machine control, you should go for a lightweight tourer.
Otherwise, a traditional touring bike is the right option for you. You can always carry much more gear and stuff but with less control over your ride. Instead, going for a lightweight option is a better idea.