Can a Small Woman Handle a Big Touring Motorcycle? This is the ultimate question that most women wonder about because they cannot reach their feet on the ground while riding the bike.
But many women ride big touring motorcycles with ultimate confidence without any hassle. So, if you are a petite woman and not sure whether you can handle a big touring bike, read on find out the answer.
Can A Small Woman Handle a Big Touring Motorcycle?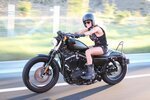 Yes, you can handle the touring bike whether you are a small woman. As soon as you start moving the bike, the handling becomes easy. But once you stop, it's challenging for small women to park the touring bike within closed spaces or parking lots.
Several Harley's on the market have a low design, allowing individuals with short heights to place their feet on the ground. Moreover, you can easily hold your bike over stops. Harley motorcycles are designed to come with a low center of gravity, allowing you to balance your bike in such situations quickly.
If you are new to riding motorcycles, you should start with a low height, lightweight, easy-to-balance, and easy-to-use motorcycle.
Once you excel in the skills at it, you can shift to the heavier big touring motorcycles.
5 Tips for Short Woman Riders Handling Touring Motorcycles: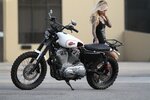 Have a look at the tips to become an excellent rider for big touring motorcycles.
You can ride any motorcycle while leaning to your left side when you stop the bike. It is an effective method to control motorcycles during a stopover. Keep the load evenly distributed and use a rare brake pedal for completely stopping at the signals or in the parking lot.
Make sure to practice a lot and master your skills over small bikes, allowing you to keep both your feet flat over the ground. Next, you should practice immediately and accelerate after the stop.
Finally, practice quick stops or swerves on different hills, moving back from parking space, and stopping with your left foot over the ground.
Analyze the entire parking situation, whether it's paved or slope, and does it offer enough space for U-turn and more.
Then, choose whether you want to park here or not. It's better to park your motorcycle on flat parking levels rather than bumpy ones.
Walk your motorcycle while gripping both the handles of the bike, especially in situations like parking spots. Grasp the grips of your bike and keep it upright.
Use the body as leverage while leaning a motorcycle against the right hip, keeping it neutral with a squeezed clutch. Ensure to cover front brakes while moving slowly and practice it on small bikes before jumping onto heavy ones.
Watch where you are stopping so that you can place your feet down on the ground. Moreover, watch your ground as you might drop the bike, especially on ramps or small valleys.
Watch for the dips in the pavement, which are usually present at exits or entrances in parking lots. Moreover, be sure about the sloping pavements. Also, if the ground is sloping towards the left, then do not lean over the left side.
How To Choose a Motorcycle That Fits Well Based on Your Height and Size?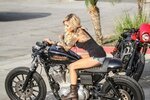 Can a small woman handle a big touring cycle, and does it fit the size and height of an individual? It's a common question to worry about. So, have a look at the steps to identify how to choose a motorcycle that fits your height and size.
The best way to identify the size of the motorcycle that fits you is to research and browse all motorcycles in the market. Then, choose a dealer in the market which allows you to choose the size by trying it.
Sit on while trying the motorcycle. Hold your motorcycle and step over to straddle your seat. Make sure that you should be able to keep your feet firm over the ground. If you lean while sitting on the motorcycle to reach the ground, it's pretty tall for you. This is unsafe and comfortable for you, so choose the ideal motorcycle.
Try sitting over the motorcycle seat while reaching out both hands over handlebars. This allows you to stay comfortable while reaching the handlebars. However, if you are stretching way too much with arms awkwardly bent, then this is not the right bike for you.
The thumb should be placed so that it locks well over the handlebar with four fingers pulled back. Ensure that you can hold the bike smoothly without any hassle as you'll be spending several miles in this position, so stay comfortable.
Make sure to keep the motorcycle on a belly stand to get support. Keep your feet placed over running boards or pegs, ensuring the feet are comfortably seated. The knees shouldn't be placed up till the handlebars. Reach the feet towards the brake lever and shift the lever on each side to feel comfortable without stretching out too much.
How To Choose the Right Touring Motorcycle for Small Women?
Height of the Motorcycle: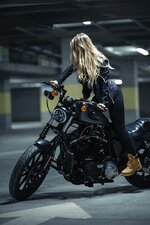 When you choose a motorcycle, pay extra attention to the motorbike's seat height. The height of your motorcycle matters a lot because if it's too big, you won't be able to control it.
Make sure to take inseam measurements plus arm length when you are going out to buy the bikes. Also, make sure to place your feet comfortably above ground.
Weight of the Motorcycle: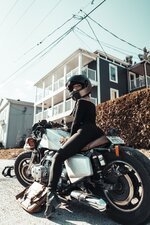 The weight of a motorcycle is another factor that you should consider while buying it. Heavy bikes are not ideal for newbies. Check if it's too heavy to move around or control the bike? Can you easily get hold of your bike and pull it off your side stand?
You should also consider the center of gravity based on your height and weight. It will help if you choose the bike with a low center of gravity like seen in Harley Davidson Sportster bikes.
Control Placement:
The controls of your bike should be right at your toes and fingers. It would help if you did not experience straining or awkward stretching while placing the hands and feet on the control placement site.
It usually results in comfort issues for people riding the bike. Make sure to adjust, test, and repeat to ensure that you'll have an ultimate riding experience with your bike.
Engine Size:
Are you new to the journey of touring on a motorcycle? Then it's ideal for getting started with bikes having a relatively small engine size. The size of the motorcycle engine determines the cubic centimeters rating. So, the higher its number, the bigger the size of the engine will be. A 1000 CC motorcycle is best for a woman touring motorcycle.
Form & Function:
It's essential to know how you'll plan on riding the big touring motorcycle in most circumstances. Are you investing in the bike for long commutes? Will you be indulging in a long day or night trip? Based on your surrounding area or commuting areas, will you be riding the motorbike on dirt roads or paved roads?
It's essential to know the bike types for beginners and professionals, so keep all different motorcycle types in mind, like touring bikes, cruisers, dual sports bikes, off-road model bikes, and sportbikes.
What's Your Budget?
Pricing is one of the essential factors that you should consider while buying a big touring motorcycle. You can check out the different financing plans offered by distributors.
What Are The Top 5 Touring Motorcycles For A Small Female?
Harley-Davidson Street Glide:
Harley Davidson street glide is a great touring motorcycle with an impressive seat height of around 26.1 inches. The weight of this touring motorcycle is about 796 lb.
If you are wondering regarding the top speed of this motorcycle, then it's around 105mph. The price range for this motorcycle is approximately $22,499.
Harley-Davidson Road King:
Next on our list is another touring motorcycle by Harley. The seat height of this touring motorcycle is around 26.3 inches, which is ideal for small women. If you can plant both feet on the ground comfortably, it's an ideal motorcycle to buy. The weight of this Harley Davidson motorcycle is around 807 pounds.
The top speed of this motorcycle is 155.0 km/h, which is good enough to command the highway. You can get this bike for around $23,994.
Honda Gold Wing:
Honda, as the name, shows it is a well-known brand that has also been manufacturing touring motorcycles. Goldwing, also known as Cadillac of touring bikes, features a seat height of around 29.3 in. A small woman will enjoy its superb balance and optimal centre of gravity while riding on the highways. The weight of this motorcycle is about 799 lbs.
The top speed of the Honda Gold Wing is about 220 kilometres per hour. You can get this motorcycle at $29,300.
Yamaha Star Venture:
Yamaha Star Venture is another best touring motorcycle for all you ladies out there. It comes with aerodynamics with effortless driving style. The seat height of the Yamaha star venue bike is around 27.4″.
The weight of this touring motorcycle is about 957 lb. The top speed featured in this motorcycle is approximately 75mph. You can buy this motorcycle for $24,999.
Kawasaki Vulcan 1700 Voyager:
If you are wondering about the seat height of this motorcycle, then it measures around 28.7″. The top speed with this motorcycle is about 185 km/h. The total weight of this motorcycle is about 895 lbs., with a price range of around $18,099.
| | | | | | |
| --- | --- | --- | --- | --- | --- |
|   | Harley-Davidson Street Glide | Harley-Davidson Road king | Honda Gold Wing | Yamaha star venture | Kawasaki Vulcan 1700 Voyager |
| Seat height | 26.1″ | 26.3″ | 29.3" | 27.4" | 28.7" |
| Length | 95.5″ | 96.5″ | 97.4″ | 106.3″ | 100.8″ |
| Ground Clearance | 4.9″ | 5.3″ | 5.1″ | 4.9″ | 5.3″ |
| Weight | 796 lb. | 807 lb. | 799 lb. | 957 lb. | 895.3lb. |
| Engine displacement | 107 cu in | 107 cu in | 111.8 cu in | 113 cu in | 1700 cm3 |
FAQs:
Can A 5-Foot Girl Ride a Motorcycle?
Yes, a 5-foot girl can easily ride a bike, too, without any hassle. It's just that you need to invest in a motorcycle that comes with comfortable seating and complete control over the years.
Choose the safe bike. It's just that you should be able to maintain the balance of your bike and stop it quickly while keeping your feet comfortably in position over the ground.
Do You Need to Be Heavy To Ride A Touring Motorcycle?
You need a little upper body strength for riding the motorcycle. Other than that, it's a skill to learn rather than being a powerlifter.
You only feel the extra weight of the motorcycle at the times of slow-speed manoeuvres like in parking lots or signals.
If you plan to move the motorcycle, you need enough power as the lightest motorcycles also come with enough weight.
You also need strength at times if your bike has fallen, like on-ramps or hills. It's all about learning the right skills of riding the motorcycle and handling it in low-speed scenarios.
How Do You Tell If A Motorcycle Is Too Big For You?
A touring motorcycle is too big for you if you cannot place both your feet comfortably and firmly over the ground while standing in low-speed situations.
If it's too powerful and you cannot balance yourself on the motorcycle, it's quite significant for you.
Conclusion
Can a small woman handle a big touring motorcycle? Is it a question that most of us wonder about? Of course, but after reading all about riding a touring bike and which ones are the best touring motorcycles available on the market, you'll love to take a ride on your motorcycle.
Enjoy a comfortable, safe experience while riding on a touring motorcycle without worrying about your height or size. Instead, choose the one that fits well and is exceptionally comfortable for you.