As someone who's done their fair share of traveling, you might know a thing or two about touring bikes. Honda Goldwing vs. Harley Road Glide, both are so similar in how they look and feel. And yet, it wasn't easy to find a few differences.
One of those differences was performance. I wouldn't recommend using these bikes off-road. But Honda's top speed of 157 mph makes for a nice detour. That's nothing compared to the 105-mph top speed of the Harley.
So which bike is the right choice? Here's my complete Honda Goldwing vs. Harley Road Glide comparison.
Industry History:
Honda:
Honda, perhaps the most recognized name in the automotive industry, started from a garage. Soichiro Honda, a mechanic by profession, founded Honda Motor Co., Ltd after World War II. The company sold its first motorcycle in 1949. Ever since then, the company has expanded its horizons. And it stands today as the world's largest motorcycle manufacturer.  
Harley:
Who hasn't heard of Harley-Davidson? The American-owned motorcycle brand has certainly made its impact worldwide. But the first Harley-Davidson motorcycle started as a mere sketch. With joint effort, William Harley and Arthur Davidson designed their first motorbike in 1903. And hence, they laid the foundations of the company as we know it today.
Honda Goldwing Vs. Harley Road Glide – An Overview:
Honda Goldwing:
The Honda Goldwing is a heavy-duty touring bike weighing over 800 pounds, with extra storage space and a flat engine. While not the most streamlined in terms of design, the ride is surely smooth and well-balanced. And when you add the ABS braking and Hossack-style suspension, you get a bike that's every bit safe and secure. Designed for on-road purposes, it conquers every corner and stops. And it's a prodigy even off the road.
Harley Road Glide:
The Harley Road Glide looks and feels like an average V-Twin touring bike, but it's a lot more. It features a DBV suspension hidden beneath its streamlined body that bears the toughest situations. While not the best off the road, it stands neck to neck against the opposite when hitting the asphalt. With extra storage space and a comfortable two-tiered seat, you'll be riding for hours without interruption.
Comparison Chart:
Features
Honda Goldwing
Harley Road Glide
Fuel & Vehicle Type
Gasoline Touring Bike
Gasoline Touring Bike
Fuel Tank Capacity

6 gal

5.57 gal
Displacement

1833 cc

1687.87 cc
Max Power

124.7 hp

78 hp
Max Torque

170 Nm

150 Nm
RPM @ Max Torque

4500 RPM

3250 RPM
Seating Capacity
2
2
Weight
848.7 lbs. (wet)

820 lbs. (wet)

Gear Transmission
6-Speed
6-Speed
Rear and Front Suspension
Front:

Double-wishbone Rear: Pro-Link with Showa shock absorber

Front: Double Bending Valve Rear: Double Bending Valve
Rear and Front Wheel Size

Front: 3.5 x 18 in. Rear: 6.0 x 16 in.

Front: 3.5 x 21 in. Rear: 3.5 x 18 in.
Seat Type
Two-tiered
Two-tiered
Engine: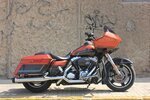 The Goldwing packs a powerful flat six-cylinder engine. Six cylinders are already quite a lot of power for a mere touring bike. Add the fact that the cylinders are oppositely placed to distribute weight, and you get a bike that rivals cars on the road.
But it's not just made for the road. The Goldwing has a top speed of a whopping 157 miles per hour, with a max torque of 170 Nm @ 4500 RPM. Its ideal liquid-cooled 1833 cc engine delivers a max power of 124.7 hp @ 5500 RPM.
While the engine certainly is powerful, there's another feature I want to point out: the lighter weight. It's more than 13 pounds lighter than its predecessors, which is a relief considering how heavy the bike as a whole is.
Compare that with Harley's Milwaukee-Eight engine, and you can see which one is more superior. Harley uses a V-Twin engine, a configuration that's pretty much standard across touring bikes. No, that's not to say that the engine itself isn't a marvel.
With a top speed clocking in at 105 mph and a max power output of 78 hp, the Road Glide closely rivals the Goldwing. Of course, the Goldwing is a lot more powerful than that. But for most on-road applications, you can get by with just the Harley, especially with its 150 Nm max torque.
Comparatively, the two engines are quite similar in performance. But there's a wide margin between the Honda Goldwing vs. Harley Road Glide. And that's why Goldwing is the clear winner here.
Weight:
While many people overlook the weight, there's no doubt that it's an essential part of choosing the right bike.
The Goldwing, with its massive six-cylinder engine, is quite heavy. To be more specific, it has a wet weight of about 848 pounds, which frankly isn't an astonishing number for a touring bike. They're known to be the heaviest motorcycles out of all the other categories. The Harley weighs about the same (820 pounds).
What's interesting is that, even though they weigh the same, the Goldwing is a lot easier to handle. A flat engine is one in which the cylinders are placed opposite each other. The main benefit of this configuration is that it helps lower the center of gravity and distribute weight at the cost of portability.
This is why you can safely say that, even though they both weigh the same, the Goldwing wins this round as well. Handling is easier in the Honda Goldwing vs. Harley Road Glide.
In general, the weight of both the bikes isn't the heaviest out there on a touring bike. So, they're relatively light (emphasis on "relatively").
Suspension: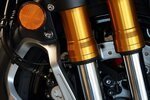 Suspension changes how you feel the ride. And when it comes to that, the Goldwing sets everything aside to make room for brilliant suspension. Its front "fork" isn't even a fork. Instead, it ditches tradition and goes for the Hossack-style double-wishbone suspension.
One of the most significant advantages of this suspension is how well it manages unwanted nose dives during braking. On the Goldwing, you get to see the double-wishbone setup in action. It's a touring bike, meaning it's one of the heaviest. And since it focuses so much of its weight on the front (a blunder on the manufacturer's part), the suspension choice couldn't have been better.
But in this regard, the Harley Road Glide is no bystander either. It uses a Double Bending Valve (DBV) Suspension in both its rear and front forks. A DBV suspension stands through thick and thin and is best suited for heavily undulated roads to cut through the chase.
As you can see, the comparison is quite hard to make. But there's one factor that completely tips the scales: adjustability. The double-wishbone design that the Goldwing uses, while beneficial, is also quite complicated. This means manual adjustments will be hectic to get around.
And consider that the double-wishbone suspension solves a problem that isn't even present on the Harley, to begin with. So, naturally, the Harley Road Glide has a better suspension.
Ergonomics: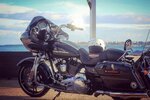 Let's face it: no matter how robust your ride is, if it's not comfortable, you don't like it. And that's what I'm here to compare between the Honda Goldwing vs. Harley Road Glide.
Starting with the Honda, it's quite comfortable to sit on. The seat isn't anything new, so there's not much to say about that. But the handlebars and the controls are. The handlebars maintain a steady posture that doesn't hurt the spine.
As for the Harley Road Glide, it's a lot more comfortable. For one thing, the seat is not flat but round and cups your posterior. There's also a raised pillion seat with a backrest. Plus, you get a windshield for added wind protection.
All in all, while both bikes feature wind deflection, Harley motorcycles have a more comfortable seat. For this purpose, it's the better choice for its ergonomics.
Electronics:
The Goldwing features an Anti-lock Braking System. (ABS), a system that's considered safer and much better for hard braking. ABS is pretty much a staple now in bikes and cars. It helps riders maintain a steady grip on the road.
Additionally, you have the option to ride the Goldwing in four preset modes: Tour, Rain, Sport, and Econ. Just by reading the names, you can estimate how versatile this bike is.
Moving on to the Harley Road Glide, it's not always been the most advanced in electronics. But the 2021 model now features two riding modes: Rain and Standard. It's not a lot, but it's an advancement nonetheless. You also get ABS along with Cruise Control, so that's a plus.
Generally speaking, the Goldwing is a lot more advanced and features more riding modes. Because of this, it's safe to say that it's the clear winner here.
Aesthetic and Looks: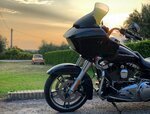 Looks influence half your decision. Whether it's a car or a bike, all the performances in the world couldn't make up for an ugly chassis.
And the Honda Goldwing understands that sentiment. Featuring a front Shark-Nose fairing with an aerodynamic yet bulky design, the Goldwing looks unlike any other bike. It strays from the traditional bird-beak design and uses twin headlamps.
But the Harley Road Glide is no different. The front of the bike is in the Shark-Nose style, standing out from the sharper bird-beak designs. Instead of a single headlight at the front, it uses a twin headlight setup with practical benefits.
But what's a touring bike without storage? The Harley Road Glide features two carrying compartments at either side as well as one at the back. From afar, it looks spectacular and sets itself apart from the competition. Most of its suspension is cleverly tucked away under the chassis, resulting in a more streamlined design.
While there's no exact verdict here, the Harley shows off more of its mechanics. If that's what you're into, then go for it. But prefer the more compact and integrated design of the Goldwing.
Pricing:
Now for the final round, it all comes down to the Honda Goldwing vs. Harley Road Glide price. What you can afford is in your hands.
Comparing the prices, they're both similarly priced. However, the Honda has many more features, such as the flat six-cylinder engine, the riding modes, and the Hossack suspension. In stark contrast to that, the Road Glide doesn't have any unique technologies or equipment.
Honda Goldwing Vs. Harley Road Glide – The Similarities:
Fuel and Vehicle Type:
While they perform differently, both the Honda Goldwing vs. Harley Road Glide is made for the same purpose: touring. Yes, the Goldwing has a Sport mode. But that's more of a luxury and less of an intended purpose. In addition to that, both the bikes are gasoline-powered.
On-Road Performance: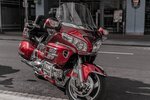 If you were to take both bikes out for a short test ride on the road, you'd hardly notice a difference in the performance. Both these bikes run smoothly, especially with the Cruise Control in place. You may notice a few differences during braking. But unless you're hard braking, the difference isn't all too clear.
On the road, both the bikes stray rooted and offer exceptional traction and grip. They even have Rain modes for wet roads. Off the road, however, is another story, where the Goldwing thrives.
Ignition and Gearing System:
If you compare the smoothness and type of transmission used on the bikes, you'll find little to no difference. Both of these bikes feature a 6-speed transmission with a hydraulic wet multi-plate clutch. In addition to that, the ignition on both these bikes is digital and computer-controlled.
Additional Features:
The Goldwing and the Road Glide share a few other features. There's a similar braking system, for instance. Both the bikes use a hydraulic disc brake for their rear and front. And they both feature ABS, a crucial technology for safe braking.
Honda Goldwing Vs. Harley Road Glide – Pros & Cons:
Honda Goldwing:
Pros:
More power and torque.
Balanced ride.
Safer stops and brakes.
Multiple engine modes.
Good for some off-roading.
Cons:
Complicated suspension.
More weight in the front.
Harley Road Glide:
Pros:
More compact design.
Streamlined integrated body.
Rain Mode featured.
Comfortable seating.
Cons:
Lower power output.
Only two engine modes.
Conclusion
There are a lot of differences between the Honda Goldwing vs. Harley Road Glide. And after weighing them, we conclude that the Honda Goldwing is the better choice here. And it couldn't be otherwise.
The engine is a lot stronger for starters than the measly V-Twin engine featured on the Harley. It distributes the weight a lot better and accounts for a bike that's easier to handle. Plus, it's a lot more versatile, optimized for both off-road and on-road applications. 
If there's one thing the Harley does conquer, though, it's the suspension. It's a lot simpler to adjust and modify.
So, what's your verdict? Which of these bikes will be your next buy of 2021?