If you love cruising on touring bikes, you'll know how much the V-Strom is loved. Considered Suzuki's official answer to the touring solution, the V-Strom is a highly reputed adventurer bike.
But when you compare it against Ducati's Multistrada V4, you find some striking similarities. The Multistrada V4 is Ducati's version of an adventurer bike and stands neck to neck with the V-Strom.
So, how do you compare two bikes that are so similar? Here's our ultimate Suzuki V-Strom 1050A Vs. Ducati Multistrada V4 review.
Industry History:
Suzuki:
Suzuki is no doubt one of the most easily recognizable automotive brands out there. Founded in 1909 as a loom company, Suzuki eventually grew to be the eleventh largest automotive manufacturer by 2016. In 2002, they launched their V-Strom line, starting with the V-Strom 1000. The V-Strom 1050 is their latest 2020 model that sets a new standard for Suzuki motorbikes.
Ducati:
Ducati was founded in 1926 by Antonio Ducati's three sons. Originally a vacuum tube manufacturer, the company eventually started motorbike production. Their Multistrada series is their flagship V-twin adventuring bike line. The first Multistrada model was sold in 2003 with a 1,000-cc engine that gradually became bigger and stronger as the years went by.
Suzuki V-Strom 1050A Vs. Ducati Multistrada V4 – An Overview:
The V-Strom:
V-Strom is Suzuki's official sport-touring motorbike that features an aluminum chassis. 1050 is their latest iteration. It has a more rugged design to withstand the elements, sacrificing strength for adaptability.
Designed with aerodynamics in mind, the V-Strom features a 4-stroke liquid-cooled engine. It features Suzuki's proprietary beak design along with a strong weatherproof body. It's considered the most widely bought dual-sporting Suzuki bike worldwide.
The Multistrada V4: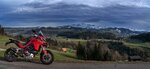 The Multistrada family is Ducati's flagship dual-sport bike that merges technology with a sleek, slim design. It's based on Italian architecture that features a rounded tank for the best ergonomics.
Multistrada's V4 model is the most powerful of the Multistrada family. It has a max torque of 170 hp, ideal for traveling and off-roading. One of the most exciting features of the Multistrada is the presence of the Power Modes.
Comparison Chart:
| | | |
| --- | --- | --- |
| Features | Suzuki V-Strom 1050A | Ducati Multistrada V4 |
| Fuel & Vehicle Type | Gasoline Adventurer | Gasoline Adventurer |
| Fuel Tank Capacity | 20 litres | 22 liters |
| Displacement | 1037 cc | 1158 cc |
| Max Power | 107.4 PS | 169.9 PS |
| Max Torque | 100 Nm | 125 Nm |
| RPM @ Max Power | 8,500 | 10,500 |
| Seating Capacity | 2 | 2 |
| Weight | 476 lb. (dry) 520.4 lb. (curb) | 478 lb. (dry) 529 lb. (curb) |
| Gear Transmission | 6-speed | 6-speed |
| Front Suspension | Inverted telescopic coil spring | 50 mm fully adjustable USD fork |
| Rear Suspension | Link-type single shock coil spring | Fully adjustable Monoshock |
| Front & Rear Wheel Size | Rear: 17 inches Front: 19 inches | Rear: 17 inches Front: 19 inches |
| Seat Type | Dual-stepped | Dual-stepped |
Engine: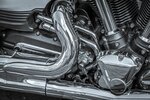 The first parameter in our Suzuki V-Strom 1050A Vs. Ducati Multistrada V4 comparison is the engine. Suzuki V-Strom 1050A uses a dual OHC (DOHC) engine that ensures a higher top speed and better ventilation. This engine is a V-Twin-type engine that's liquid-cooled to prevent overheating.
The Ducati, on the other hand, is powered by a V-4 engine, which is a 4-cylinder piston engine. Comparatively, they're both liquid-cooled and highly efficient. In addition to that, Ducati's engine is much more compact and better against the weather.
Despite being similar, however, the engines have different displacements. To be more precise, the V-Strom has a displacement of 1037 cc, whereas the Ducati has 1158 cc. The difference isn't substantial, but it's enough to impact torque and top speed.
The Ducati's wider displacement enables it to reach incredible speeds and general high torques of 125 Nm at 8750 rpm. Compared to that, the Suzuki V-Strom has a peak torque of 100 Nm at 6,000 rpm. Although some people, especially commuters, might prefer this as it's easier to handle and doesn't speed up suddenly.
Overall, both the engines are similar. But since the Ducati has a more powerful engine, it's the better choice here.
Weight:
When riding off-road, weight is key to balancing yourself and maintaining control over the bike. I found that both have similar weight in my Suzuki V-Strom 1050A Vs. Ducati Multistrada V4 review. They both have a dry weight of about 476 lbs. (478 in the Multistrada).
It's not hard to see why the weights are similar. Both motorbikes use a similar size of chassis with two very similar 4-stroke engines. Since then, Ducati has a wider displacement. You would expect the weight to be a bit higher. But it seems that the Ducati can counteract that weight and keep the entire bike balanced.
However, it's worth noting that this is just the dry weight. It's not the wet/curb weight, which is with a full fuel tank. The V-Strom has a curb weight of 520 lbs. whereas the Multistrada has that of 529 pounds. This slight difference is due to the larger fuel tank of the Multistrada.
In a nutshell, both bikes are similar in their weights. But the Multistrada has a slightly higher weight.
Suspension: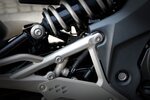 The Suzuki V-Strom has an inverted telescopic coil spring front suspension and a link-type coil spring rear suspension. It's not uncommon for telescopic suspensions to be filled with oil to prevent unnecessary spring oscillations.
Telescopic suspensions are generally preferred over hydraulic ones. They are inexpensive and require lesser oil to function. Plus, they don't cost a lot to maintain, which is quite familiar with hydraulic suspensions.
On the other hand, the Ducati Multistrada uses an Upside Down (USD) front fork suspension. USD suspensions are better at damping than telescopic suspensions. However, you may find the suspension fork on the Ducati to be a little harder to adjust. The architecture is a bit more complicated, and taking it apart for maintenance is a menace.
In terms of performance, there isn't much of a difference between the two bikes' suspensions. The only difference lies in the maintenance and convenience of suspension adjustment. The V-Strom's telescopic suspension is immune to dust and debris flying from your wheels. This is because the slider is way up at the top, away from the path of blowing dust.
On the Ducati, however, the suspension can be readily affected by flying debris. Additionally, the Ducati's oil leaks will significantly dampen your brakes, whereas no such danger is present with the V-Strom. Thus, it's safe to say that the V-Strom is a better choice for its suspension.
Ergonomics:
The design and ergonomics of the Suzuki V-Strom 1050A Vs. Ducati Multistrada V4 is very similar. Both look like your average sports bikes with a front windshield and aerodynamic construction.
However, the Ducati has a more rounded tank that makes leaning into the handlebars more comfortable. Additionally, on the Ducati, you'll find a long rear fender. A similar fender is present on the V-Strom, but it's not as long. Since fenders keep dirt and debris from flying into riders behind you, the Ducati is best for people who ride with friends.
One thing to note here is that the Suzuki handlebars are much closer to the driver's seat than on the Ducati. This can affect your performance, as some riders, especially commuters, are fond of compact handlebar setups.
All in all, both the bikes are comfortable to ride on and easy to control. They both weigh the same, which means no weight imbalances and no hard turns. And since they both don't feature a front render, they're equally as bad at preventing dust from flying up to your legs.
Despite that, the Ducati seems like a more comfortable ride. It has a longer rear fender that keeps dust away from proximate drivers.
Electronics:
While most vehicles run on mechanical power, the electronic components are no doubt just as essential. When I compared the Suzuki V-Strom 1050A Vs. Ducati Multistrada V4, the Ducati Multistrada appears to be the clear winner.
But first, let's talk about the V-Strom.
The V-Strom 1050A comes with a new and improved LCD panel that presents essential stats like speed and gear. The LCD also displays the speedometer, gear position, dual trip meter, and a temperature indicator.
And surrounding this LCD screen are a few LED light indicators that indicate stuff like the high beam, turn signal, and freeze.
One of the most astounding features here is the Anti-lock Braking System (ABS). The ABS is a modern technology that prevents your brakes from locking and retains your safety and security.
This ABS technology can also be found on the Ducati in the form of ABS cornering. It's a neat and clever way to prevent your brakes from locking and keeping your bike safe from malfunctioning.
In addition to that, the Ducati also features various Power Modes that put a damper on your power consumption. So, you don't accidentally overbear the engine and stay with a speed limit. In terms of this, you also get various Riding Modes that automatically adjust power and torque to meet your needs.
Since the Ducati features everything the V-Strom does plus Power Modes, it's the clear winner. Though, if you like the extra indicators and meters, consider buying the V-Strom.
Aesthetics and Looks:
Now here's what we've all been waiting for: aesthetics. At first glance, both bikes have a sporty look that's similar to most performance bikes. However, at a closer look, the differences become apparent.
The V-Strom has a more rugged design that features sharp edges and raised points. It has a dark grey paint job that integrates into the road it's riding on.
On the Suzuki V-Strom, you get to experience the full force of the rally beak design. This design was pioneered by Suzuki and has become a staple among adventure bikes. It lends the bike a more dynamic look, which you wouldn't get with traditional adventure bikes.
As for the Ducati Multistrada, it builds upon Italian design ethics. It merges functionality with ergonomics. The front features a full LED headlamp along with a Cornering light that sets the Ducati apart from the crowd. There's a raised pillion seat for carrying passengers or cargo.
In a nutshell, both bikes have some amazing aesthetic features. And when compared to traditional commuters, they look more premium. However, when compared with each other, the Suzuki V-Strom seems to be the better choice. It has better aerodynamics and looks more professional.
Pricing:
Finally, we come down to pricing. Price is a huge buying factor for most people. So, naturally, the V-Strom is the winner of this round since it costs less.
In addition to that, the V-Strom also offers better financing options. You can choose a payment term from 24 months up to 84 months. This is just for the V-Strom base value and doesn't factor in registration, license, and workshop labor setup fee.
The Ducati, on the other hand, has two financing options. You can choose Ducati Traditional Financing, which can run for 60 months with 0% interest and 90-day No Payment. Or you can choose Premier Financing, in which you must pay a 10% down-payment at 2.99% APR. Regardless, you will have to pay a down payment in both plans.
Since the V-Strom has a lower initial price and has no down payment, it's the biter choice. But keep in mind that it has a 1.99% APR.
Suzuki V-Strom 1050A Vs. Ducati Multistrada V4 – The Similarities:
Fuel and Vehicle Type:
One of the most obvious similarities is the type of vehicle both the bikes are. These are adventure bikes that are made for off-roading. They offer better performance and weatherproofing than your average commuting bikes. And they can reach higher top speeds. And since they're not performance-geared, they don't require as much maintenance and do not wear out faster.
In addition to that, both bikes use regular-grade fuel and will perform their best on that. It's not recommended to use premium-grade fuel on their engines, as this could be harmful.
Engine and Performance:
When talking about the engine, it's safe to say that both the Suzuki V-Strom and the Multistrada use a similar kind of engine, though not the same. Their engine's performances aren't too far from each other. And they both feature top-speeds akin to performance bikes. Both the engines are liquid-cooled, meaning they maintain the efficiency of the system.
Ignition and Gearing System: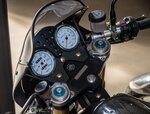 Both the bikes feature a 6-speed transmission with a wet, multi-plate clutch. Their final drives are chain-type with similar ratios.
However, the Ducati has a hydraulic clutch control, something you don't see with the V-Strom. The clutch also features a self-servo action on the drive.
Additional Features:
The bikes both feature ABS control systems that prevent your brakes from jamming during cornering. Additionally, they have similar designs, though the Ducati is slightly more ergonomic. Both bikes feature LCD panels that display vital stats along with the radar.
They also weigh the same, having similar dry weights and slightly different curb weights. And they both have similar fuel tank capacities, which is why their curb weights are so close to each other.
Suzuki V-Strom 1050A Vs. Ducati Multistrada V4 – Pros & Cons:
The V-Strom 1050A
Pros:
Slightly lower curb weight.
Better suspension.
LCD screen with various stats.
Multiple indicators.
Comfortable ride.
Cons:
The rear fender is too small.
The Multistrada V4
Pros:
More powerful engine.
Smart power management.
Better suspension damping.
More ergonomic tank design.
Long rear fender.
Cons:
Slightly heavier curb weight.
Lesser aerodynamic.
Conclusion
In this review, we have looked at the differences and similarities between the two bikes. But the final verdict is yet to be made.
After careful assessment, we found that the Suzuki V-Strom is the better choice. This was partly due to its aerodynamic design and partly due to the reliability of its suspension. The V-Strom has a suspension that's better than the Ducati in every aspect.
So, what are your thoughts on our verdict? Do you like the powerful engine of the Multistrada or the reliability of the V-Strom?