The Indian Challenger Vs. Honda Goldwing head-to-head discussion is quite popular among bikers. Ask any tourist, and they'll swear by these bikes. And why not? With a top speed of 125 mph and a powerful V-twin, that's the beating heart of this bike; the Indian Challenger is no joke. At first sight, you might even mistake it for a sportbike.
But the real question is, which one should youbuy? How do they compare against each other? Let's find it in the review of Indian Challenger vs. Honda Goldwing.
Industry History:
Indian Challenger:
The Indian Motorcycle Company originated as the Hendee Manufacturing Company. Its initial purpose to design bicycles. And the brand quickly grew to encompass motorcycles as well. Their prototype was completed in 1901. And since then, the company has grown to be one of the most well-known American motorcycle brands.
Honda Goldwing:
Honda is the world's largest motorcycle manufacturer, but it wasn't always the automotive behemoth we know today. It started as a small company that supplied Toyota with piston rings. But as it gradually grew, it finally made its first motorcycle in 1949. And ever since, the company has become the most renowned motorcycle manufacturer.
Indian Challenger vs. Honda Goldwing – An Overview:
Indian Challenger:
With a robust body and a sporty design, the Indian Challenger is a high-performance touring bike. It has a top speed of 125 mph and is one of the best companions for any traveler. Living up to its name, "Challenger," this bike isn't just restricted to the open road. It fares well off-road as well and has superior braking power. And that's not to mention the new and improved hydraulically adjustable Fox rear shock.
Honda Goldwing:
Honda's Goldwing is just one of the many Honda bikes that altogether ditch the fork suspension. Instead, this bike opts for a double-wishbone suspension. As a result, it completely tips over traditional ergonomics. And with its flat six-cylinder engine, the Goldwing balances weight with performance. It has a top speed of 140 mph, with smooth acceleration that's ideal for freeways. And it's all backed up by an industry-standard infotainment system.
Comparison Chart:
Features
Indian Challenger
Honda Goldwing
Fuel & Vehicle Type
Gasoline touring bike
Gasoline touring bike
Fuel Tank Capacity

6.0 gallons

5.5 gallons
Displacement
1,768 cc

1,833 cc

Max Power
122 hp

125 hp

Max Torque
128 ft-lbs.

130 ft-lbs.

RPM @ Max Torque
3,800 RPM

4,500 RPM

Seating Capacity
2
2
Weight

831 lbs.

835 lbs.
Gear Transmission6-speed6-speedRear and Front SuspensionFront: inverted telescopic cartridge fork Rear: hydraulically adjustable Fox mono-shockFront: Double-wishbone Rear: Pro Arm single side swingarmRear and Front Wheel SizeFront: 19″ Rear: 16″Front: 18″ Rear: 16″Seat TypeTwo-steppedTwo-stepped
Engine: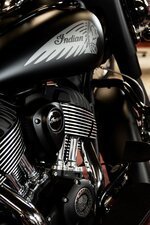 In this Indian Challenger vs. Honda Goldwing comparison, perhaps no factor is as important as the engine. It's the heart of every motor vehicle.
Starting with the Indian Challenger, it uses a PowerPlus V-Twin engine that's liquid-cooled. As a result, the bike can reach a maximum torque of 128 lb.-ft and a max power output of 122 horsepower. Considering it's a touring bike, these numbers epitomize the industry-leading performance of the engine.
Being a powerful V-twin engine, it can reach a top speed of up to 125 mph, perfect for freeways and interstates. However, if you want to control the speed, the Challenger offers three custom riding modes. These ensure maximum engine efficiency and save a lot of your fuel.
On the other hand, the Honda Goldwing is a similarly matched touring bike. It uses a flat six-cylinder engine which is 13 lbs. lighter than its predecessors. Being a more powerful engine with wider displacement, it's quite shocking that it's not more performative than the Challenger.
To be more specific, it has a max torque of 130 lb.-ft and a max power output of 125 hp. This is quite close to what the Challenger has to offer. The main difference here is in the cylinder configuration. The Goldwing uses a flat setup where the cylinders are opposed-faced. This has some benefits, which we'll discuss later, but it does not affect performance.
Although both bikes are nearly identical in their engine outputs, the Challenger does it with a smaller engine. This is why the Challenger wins this round.
Weight:
Now here's where the Challenger fails. With so many components being cramped onto a bike, weight is key to good handling. And that's precisely what the Goldwing shines at.
To give you an idea, the Indian Challenger has a curb weight of about 833.3 pounds. And the Honda Goldwing has a curb weight of about 835.5 pounds. Curb weight is the bike's weight with all the necessary fluids (including the fuel).
At a glance, the weights are almost identical, so a comparison is hard to make. However, it's not just the natural weight that should concern. How it's distributed and balanced should be your concern too. And that's why the Goldwing wins this round.
It uses a flat cylinder configuration, where the cylinders are oppositely-faced. This configuration is well-known in the motorcycle industry for its even weight distribution. On the other hand, the Challenger uses a V-twin configuration, which is somewhat balanced but not a flat engine.
For this reason, it's safe to say that the Goldwing has better weight distribution.
Suspension: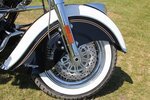 Suspension is crucial when you're veering off-road and need to keep your ride stable. That's why it is included in this Indian Challenger vs. Honda Goldwing comparison.
The Indian Challenger uses an inverted suspension at the front along with a Fox shock at the rear. The rear shock is of particular importance as it can be hydraulically adjusted. This means you stay in full control of how rigid the ride feels.
In addition to that, the Indian Challenger has an all-aluminum chassis. It's both lightweight and rigid, ensuring a ride that feels tougher.
But the Honda Goldwing is the real star of the show. Built without a standard shock, this is one of the few Honda bikes that use a double-wishbone suspension. While this setup has more advantages in ergonomics, it does affect handling a lot. It lets the designers move the engine forward, which makes carving corners twice as easy.
Another aspect of the suspension of this bike is the frame. It's made from light aluminum, unlike other bikes that often use steel. Not only does this keep the frame safe from corrosion and oxidation, but it also creates a more rigid ride.
Due to the unique wishbone suspension and the better off-road capabilities of the Goldwing, we declare it as the winner in this section.
Ergonomics: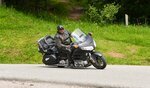 To begin with, the Indian Challenger is the best example of balanced handling. On the bike, your posture leans slightly forward, adding a touch of sportiness to your ride.
But ergonomics isn't judged only on riding comfort; braking comfort is just as important. Luckily, the Challenger uses radially-mounted Brembo brakes. These aren't any ordinary brakes. They're performance brakes, and you can find similar ones on racing bikes.
And it's not just the Challenger. The Goldwing also goes all-out when it comes to braking power. It features hydraulic disc brakes on both its rear and front wheels.
One other ergonomic aspect of the Goldwing is the wishbone suspension. It allows the designers to move the engine and the tank (and ultimately the rider) forward. This lets them shorten the fairing and windscreen. Again, this improves aerodynamics and overall performance.
Considering the sporty style and the race-quality Brembo brakes used on the Challenger, it's the clear winner here. But the Goldwing comes pretty close, with the shorter fairing and ergonomic design. 
Electronics:
While you may not realize it, a lot of the components on your bike are electronically controlled. And that's especially true for the Indian Challenger.
When it comes to gauges and infotainment, the Challenger makes no compromise. It features a fairing-mounted instrument cluster that houses an analog speedometer and tachometer. Along with that, you get 15 LED telltale indicators as well as a Cruise Control option.
As you sit on the bike, you're greeted with a wide 7″-display touchscreen that displays all your riding vitals. The panel also features a 100-watt stereo system with FM and AM capability.
The Honda Goldwing features a similar control panel with all the necessary infotainment. However, two features set it aside.
First, there's the HomeLink technology. It's a type of Internet of Things (IoT) tech that lets you control devices in your home from your bike.
The second technology is the Tire Pressure Monitoring System (TPMS). While not new, it's a handy feature that helps you keep your eyes on the road. 
Due to these two technologies and the included infotainment, the Goldwing wins this round.
Aesthetics and Looks: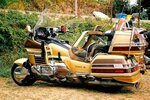 This is a matter of personal choice so that we won't make any strict conclusions. However, regarding looks, the Indian Challenger vs. Honda Goldwing looks strikingly similar. But there are some stark differences.
The fairing or "beak" of the Goldwing is more pointed than that of the Challenger. This also has a practical benefit, as a pointier beak is more aerodynamic.
One thing that does make the Challenger's design stand out is the bare engine. Of course, this is a personal opinion, but bikes that show off their mechanics are more pleasing to the eye.
All things aside, both the bikes have ups and downs when it comes to aesthetics. But if we had to choose one, it would be the Challenger. The bulkier design is a much-needed break from the traditional beaked fairing of the Goldwing.
Indian Challenger vs. Honda Goldwing – The Similarities:
While the two bikes differ in many aspects, there are some notable similarities, such as:
Fuel and Vehicle Type:
Both the Indian Challenger vs. Honda Goldwing are touring bikes with a bit of a touch of sportiness. They're great for cruising through freeways as well as for a bit of off-roading. And since they're touring bikes, they can carry a lot of cargo for you.
Another similarity is that both these vehicles run on gasoline. It's not the cleanest form of transport, but it is the most readily available.
Engine and Performance:
Although the bikes use different styles of engines, their performance is almost the same. This is because they both have approximately the same max torque and the same max horsepower. Despite this, the Honda Goldwing has a slightly higher top speed of 140 mph.
Nevertheless, both these bikes provide excellent acceleration across a wide range of speeds. And they're easy to control around curves, though the Goldwing is slightly more ergonomic.
Ignition and Gearing System:
Both the Indian Challenger and the Honda Goldwing use a keyless ignition system. It's a significant leap from the traditional keyed ignitions of old bikes. Instead, the ignition is completely electronic with an array of transistors.
In addition to that, the bikes also feature a six-speed suspension with the final drive on the shaft. And the clutch style is wet.
Additional Features:
Aside from that, there are a few other similarities. For instance, they both use hydraulic brakes, with the Challenger's Brembo brakes upstaging Goldwing's.
And they can both hold about the same amount of fuel (6.0 gallons on the Challenger and 5.5 gallons on the Goldwing). Their designs also sit pretty close to each other, though the Challenger is more rounded.
Indian Challenger vs. Honda Goldwing – Pros & Cons:
Indian Challenger:
Pros:
Better engine performance.
Race-quality brakes.
Unique bulky design.
3 riding modes.
Great for cutting corners.
Cons:
Worse suspension.
Weight distribution could be better.
Honda Goldwing:
Pros:
Better suspension.
Better weight distribution.
Superior-quality braking.
Includes TPMS and HomeLink.
Traditional beaked design.
Cons:
Lower ergonomics.
Low engine power.
Conclusion
Now it's finally time for the verdict. Which bike is better: the Indian Challenger vs. Honda Goldwing?
From what I could figure out, the Honda Goldwing is a better choice than the Indian Challenger. And for many reasons. Firstly, it has better weight distribution. And it ditches the traditional fork design for a unique double-wishbone suspension. This affects both suspension and ergonomics.
And finally, the electronics are a lot more diverse, including HomeLink and TPMS. But that doesn't mean the Challenger is any worse. On the contrary, it's a great choice, especially for the engine performance and the superior brakes.