As someone who loves road trips, I can tell a good bike apart from a bad one. Before we get into details, here's a bit of background. The Star Venture is Yamaha's "transcontinental" bike, with a top speed of 90 mph. As opposed to that, the Road Glide is Harley Davidson's flagship touring bike. It can reach speeds of up to 105 mph. How do these bikes compare against each other?
Find out in this Star Venture vs. Road Glide review.
Industry History:
Yamaha:
Yamaha Motor Company was founded in 1955 and was a subsidiary of Yamaha. Its prototype was the YA-1, a single-cylinder motorcycle. After the rampant success of the bike, Yamaha began mass production of motor vehicles. And after numerous expansions, it stands as the second-largest motorcycle seller in the world.
Harley Davidson:
The motorcycle giant that we know as Harley Davidson was founded in 1903. Headed by Arthur Davidson and William Harley, it sold its first motorcycle in the same year. And since then, it has continued to sell thousands upon thousands of bikes. The brand is most famous for its chopper motorcycle style. 
Star Venture Vs. Road Glide – An Overview:
Star Venture:
The Star Venture is a "transcontinental" touring bike made for those who like to go beyond. Fitted with a V-twin engine and integrated infotainment, the Star Venture is the perfect choice for tourists and explorers.
It features a balanced chassis with aluminum alloy rings and a 5-position adjustable span. And to top it all off, the Standard Package comes with an inbuilt seat and handlebar warming. This bike is the best for its extra features and powerful engine.
Road Glide:
Harley Davidson's Road Glide is a benchmark touring bike made to travel long distances. Equipped with a Milwaukee Eight 107 engine and a contoured rider's seat, the Road Glide is a luxury to drive.
It accelerates 11% faster than previous models and comes with ABS and infotainment integrated. But that's nothing compared to the machinal look. This bike bares all to showcase the intricate inner workings of a Harley Davidson engine.
Comparison Table:
Features
Star Venture
Road Glide
Fuel & Vehicle Type
Gasoline Tourer
Gasoline Tourer
Fuel Tank Capacity
22.5 liters

22.7 liters

Displacement

1851.74 cc

1750 cc
Max Power

90 hp

78 hp
Max Torque
126 lb.-ft

111 lb.-ft

RPM @ Max Power

3,750

3,250
Seating Capacity
2
2
Weight
869 lbs.

855 lbs.

Gear Transmission6-speed6-speedRear and Front SuspensionFront: 46mm telescopic Rear: linkage-type shockFront: dual-bending valve Rear: dual-bending valveRear and Front Wheel SizeFront: 18" Rear: 16"Front: 19" Rear: 18"Seat TypeDual steppedDual stepped
Engine:
The engine was the most important consideration in my Star Venture vs. Road Glide review.
The Yamaha Motor Sports Star Venture uses an air-cooled OHV engine with a total displacement of 1851.74 cc. OHV engines are highly revered for their compacter size and better low-RPM performance. For a touring bike that won't be driven at high speeds, that's exactly what we want.
The Star Venture has a max torque of about 53.8 lb.-ft at 3,750 RPM on the more technical side. You can see clearly how much torque this engine provides at lower RPMs. Along with that, this engine outputs up to 90 horsepower of power, which isn't a lot. But for a touring bike, it's sufficient. 
The only downside with this engine setup is the lack of power and torque at higher RPMs. When cruising through city roads, this shouldn't concern you. But when faced with an empty freeway, the lack of power will be more than annoying.
On the Road Glide, you'll run into a similar conundrum. It uses the Milwaukee-Eight 107 engine, which is Harley Davidson's proprietary engine. It features a total displacement of 107 cubic inches (hence the name) or 1750 cc.
The main concept behind the engine is that it accelerates to 60 mph 11% faster. This means startup time is significantly reduced. When you're on tour, you'll need to make many stops, so the feature is quite helpful.
Other than that, the Road Glide has a max torque of 106.2 lb.-ft at 3,250 RPM. As you can see, it's suited for lower RPM use, much like the Star Venture is. However, there is a stark difference between the max torques of the two bikes, even at the same RPMs. For this reason, the Road Glide wins this round.
Weight: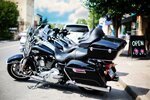 Weight plays an essential role in deciding how easy a bike is to handle. And when it comes to that, the Road Glide takes the lead. It weighs 855 lbs. (387 kg) on a full tank than the Star Venture, which weighs 869 lbs. (394 kg) on a full tank.
The difference at first may seem subtle. But keep in mind this is a whole 14-pound difference. This means that the Road Glide is slightly easier to handle around corners and sharp turns. While handling depends on a lot more than just the weight, it does play a part in it.
What's more, the Road Glide is not only lighter but better balanced as well. Harley uses its secret die-casting strategies to make sure that the frame is perfectly balanced. And with some effort from the engine, the bike can retain its balance even during sharp turns.
Hence, even though the difference is 20 pounds, in the bigger picture, that's all it takes to make a difference. That's why the Road Glide wins this round as well.
Suspension: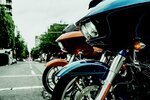 When conducting our Star Venture vs. Road Glide comparison, how could we forget about suspension? On the Star Venture, the suspension takes the form of a 46 mm telescopic fork. It's the first thing you'll notice on the bike. It's been specially designed to provide the perfect balance between high-RPM handling and shock absorption.
But that's not all. In Star Venture, you get a linkage-type shock for the rear suspension. You get to tune the spring compression and damping as well as the spring preload.
As for the Harley Davidson Road Glide uses a 49mm dual bending valve for its front suspension. And for the rear, you get an adjustable preload shock with 2.1-inch travel. The shocks are highly adjustable. And the fork cartridge can handle up to 240 pounds of weight.
One of the main downsides to Harley's suspension is the linear spring rate. Let me explain what this means. Spring rate is the amount of weight required to compress the spring. A linear spring rate does not change depending on the weight. This means that the harsh bumps can feel even more difficult.
For this exact reason, it's safe to say that the Star Venture has a much better suspension. It's quite easy to adjust and doesn't nose-dive when hard braking.
Ergonomics: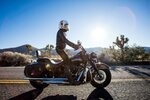 What's a fancy ride if you can't enjoy it? When it comes to ergonomics, nothing can beat the Star Venture. The seat is deeply padded, so it doesn't dig into your bones. And the seat stands 27.4 inches off the ground, giving you just the right road contact when you put your feet on the floor.
Along with that, you get five adjustable span positions. Unlike other bikes, where you don't have much choice, the Star Venture lets you customize your bike to the fullest extent.
And that's not even the best part. The Star Venture steps up its game by featuring a heating system. It keeps the seat, grips, and backrest heated. That means no more cold hands or chilly morning breezes. This heating can be found in the Standard package.
But the Harley Davidson Road Glide is no bystander either. It features a large windscreen that keeps the cold mountain wind away from your face. It also protects the torso to prevent that numb feeling. What's more is that the seat is deeply padded and features a backrest, though the backrest is more for the pillion.
Due to the adjustable seat positioning and the heating system, the Star Venture wins this round.
Electronics:
Electronic components make a bike much more functional. That's why the Star Venture goes all out when integrating its electronics. This is a bike that implements infotainment unlike any other. It features a full-blown sound system that's both touch and voice-enabled.
But that's only the beginning. Star Venture uses Yamaha's Sure-Park parking system. It electronically assists the wheels for easier parking. Parallel parking is a lot faster with this technology.
Harley is an entirely different case, however. The company hasn't exactly been the most technologically advanced. Nevertheless, they did go out of their way in the 2021 model, including the Rain and Standard riding modes. This comes in addition to the included Cruise Control, which saves up a lot of engine power.
One other thing I should mention is the braking system. It features Anti-Lock Braking System (ABS) technology, which means it's quite safe to use.
All in all, the Star Venture seems to be a lot more advanced, and thus, takes the lead in this round.
Aesthetics and Looks: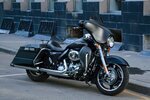 Talking about aesthetics, the Star Venture vs. Road Glide have some stark differences. Right off the bat, you'll notice the compact and covered design of the Star Venture. It's a bit shy and hardly shows off the V-twin engine.
That's not the case with the Road Glide, though. It's a lot more confident and proudly flaunts the engine and many of its other mechanisms. You'll surely impress your friends with just how cool, and heavy-duty the bike looks.
I believe that Road Glide's technical look is well-placed. Touring bikes hardly get the attention they deserve. A flashier bike like the Road Glide will do them justice. Thus, without any question, the Road Glide wins this round.
Pricing:
Now for what you've probably been waiting for: the price. In this regard, I'll be comparing the base MSPR and the pricing options, and ease of financing.
Right off the bat, the Star Venture has a pricier base MSPR than the Road Glide. However, the APR can be as low as 2.99%, with a minimum payment of 2.92% (only for creditworthy customers). For others, the APR can go as high as 23.99%.
Harley also allows you to buy the bike at a reduced APR (as low as 7.99%) if you have good credit. If not, the APR can go pretty high. You have many choices, such as an RDRS version, a Premium Radio version, and a California Emissions version.
The Road Glide certainly has better financing options for non-creditworthy customers.
Star Venture Vs. Road Glide – The Similarities:
There are a lot of similarities between the Star Venture vs. Road Glide. Here are just a few of them:
Fuel and Vehicle Type:
While both the bikes differ in many aspects, they're still just touring bikes. For those of you who don't know, touring bikes are made for long road trips along with urban settings and paved roads. They're designed to run at lower RPMs and can handle more weight. And most, if not all, come with extra storage space at the rear.
Along with that, these bikes run on gasoline. Yes, it's not the most environmentally friendly. But it's the cheapest and most readily available.
Engine and Performance:
We did establish that the engines have different outputs. However, there are a few similarities. For one thing, both these engines peak at low RPMs. And for another, they're both V-twin engines.
The Star Venture does perform better, though, significantly when accelerating. So, it's much easier to make pitstops with. But aside from that, the difference in performance is quite negligible.
Ignition and Gearing System:
Every journey starts with an ignition. On the Star Ventura and Road Glide, the ignition is 100% electronic. There are a few benefits to this, such as low failure rates and quick startups. Additionally, they both use a 6-speed transmission. Although, the Star Venture uses a belt-drive, whereas the Road Glide uses a chain drive.
Additional Features:
Finally, the Star Venture vs Road Glide share has a few other features, namely the infotainment system. Both the bikes have excellent infotainment systems. They come pre-integrated into the control panel. They have wireless compatibility with touch and voice controls and a navigation panel.
And that's not all. These bikes also feature an Anti-Lock Braking System (ABS), which has become pretty much a standard among bikes. This braking system allows for more abrupt braking and prevents the brakes from jamming.
Star Venture Vs. Road Glide – Pros & Cons:
Star Venture:
Pros:
Lesser nose-diving during hard braking.
Adjustable span positions.
Heated seat and handlebars.
Easier motor-assisted parking.
Features powerful speakers.
Cons:
Lesser low-RPM torque.
Heavier than the Road Glide.
Road Glide:
Pros:
Lighter vehicle choice.
More powerful engine.
Bare mechanical design.
Contoured rider's seat.
Features ABS for extra safety.
Cons:
Easy to nose-dive.
Low seat adjustability.
Conclusion
And that concludes my Star Venture vs. Road Glide comparison! I found that the Harley Davidson Road Glide is a much better choice than the Star Venture, and for many reasons.
Firstly, the Road Glide has higher torque at a lower RPM. Not only that, but it accelerates 11% faster than regular touring bikes. This means that its performance is already pretty exceptional.
Add that to the integrated infotainment system, and you get a touring bike perfect for the journey. I still think it needs a bit more electronic. But overall, the Road Glide wins the comparison.
Featured Image from Flickr © Rob_606 – The original image was not changed