What makes a good sports bike? Just ask Suzuki, a brand that, over the years, has pioneered some of the world's best sports bikes out there. And perhaps no bike has filled the spotlight better than the Suzuki Hayabusa.
But despite its popularity among bikers, there's still a valuable contender that stands against it: the Yamaha YZF R1. Just as popular and incredibly easy to control, the Yamaha is better known for its reliability rather than performance.
Nevertheless, both the bikes stand neck to neck when compared with each other. And that's why I'm here to settle the debate: Suzuki Hayabusa Vs. Yamaha YZF R1, which is better?
Industry History:
Hayabusa: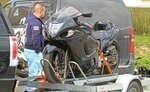 It may not be widely known, but Suzuki actually started as a loom-making company. It only switched to making cars after almost 50 years of loom production. Their first car, the Suzulight was innovative and equipped with features decades ahead of their time. Soon after, they started manufacturing sports motorbikes that won World Championships.
Yamaha: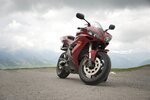 The YA-1, developed in 1955, was Yamaha's gateway into the world of automobiles and sports vehicles. Since then, Yamaha's portfolio has expanded from this small 125 cc motorbike to 1000 cc performance bikes. Hailed as trailblazers in the industry, Yamaha has the second-highest motorbike sales.
Suzuki Hayabusa Vs. Yamaha YZF R1 – Overview:
Hayabusa:
The Suzuki Hayabusa was once the fastest motorbike to be in production. And even though it has been overtaken by faster models, it still stands as a popular choice among sporting riders.
Hayabusa's engine is the talk of the town. It produces up to 187 horsepower at 9,750 rpm and can reach top speeds of up to 300 km/h. With tubeless tires and a safer ABS braking system, the Hayabusa is a fan-favorite about racers and customizers.
Yamaha:
Yamaha's YZF R1 is its latest 2020 iteration of the YZF. It's a more refined version of its previous model and is a common conversation point among racers. It's considered one of the best sports bikes mainly due to the level of control it provides.
What's more, this model has been designed with reliability in mind. It's also lightweight, lending it the flexibility that other motorbikes don't have.
Comparison Table:
FeaturesSuzuki HayabusaYamaha YZF R1Engine Displacement (cc)1340998Max Power197 bhp @ 9500 rpm197.3 bhp @ 13500 rpmMax Torque155 Nm @ 7200 rpm112.4 Nm @ 11500 rpmCurb Weight268 kg200 kgBrakesFront: Disc, ABS, twin Rear: Disc, ABSFront: Hydraulic Dual Disc Rear: Hydraulic Single DiscSuspensionFront: inverted telescopic Rear: Link-typeFront: Telescopic Forked Rear: Swing-arm, Link-typeTransmission6-speed, manual6-speed, manual
Comparison of Suzuki Hayabusa Vs. Yamaha YZF R1
Engine:
While both the Suzuki Hayabusa Vs. Yamaha YZF R1 use a 4-cylinder engine, Hayabusa leads with its higher engine displacement. To be more specific, the Hayabusa has a 1340 cc engine, whereas the Yamaha has a 998 cc engine.
Higher engine displacement translates to more torque and hence a more powerful machine. However, this isn't always the case. And when talking about power alone, the Yamaha leads the way, with higher max power. But not all of this power goes into the wheel's toque.
Verily, the Hayabusa has a higher max torque, resulting in a higher top speed and faster rides. The Hayabusa can reach a top speed of almost 300 km/h, perfect for the racetrack's performance uses.
Moreover, the Hayabusa has electronic fuel injection. It's faster than the regular fuel injection featured on the Yamaha.
So the Hayabusa seems to be the clear winner here. It's faster than the Yamaha and more powerful. The Yamaha has a smaller engine that can't deliver as much as the Hayabusa's. Aside from that, everything else is pretty much the same.
Weight and Looks: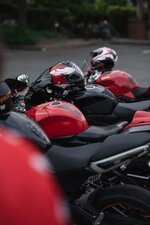 Since it houses a larger engine, the curb weight is more in the Suzuki Hayabusa Vs. Yamaha YZF R1. To be more specific, the Yamaha weighs about 200 kilos, whereas the Hayabusa weighs 264 kilos.
Curb weight refers to the weight of the vehicle with all necessary fluids included. It's a good way to measure the weight without including any passengers or cargo. In terms of weight, the Yamaha is the better choice. A difference of 64 kilos is a lot. While you won't handle the weight yourself, the resulting drag and friction on the bike can reduce your top speed.
This especially becomes a concern when you're overweight and have issues finding a bike that can fit you. But keep in mind that the Hayabusa is heavier because of its bigger engine. If you want the bigger engineer, then ignore the extra weight and go for it.
As for looks, both look pretty similar. Though I must say, the Yamaha looks a lot better. Its rear end is lifted into the air and points up instead of straight down like the Hayabusa. This gives it a sporty look that you would normally want on a performance bike.
Suspension:
The Yamaha uses inverted telescopic forks for the front suspension and a swing arm for the rear suspension. Forked suspension is much better than the conventional upright one since it has a greater sliding area and makes the front stronger.
Additionally, the swing arm is one of the very few suspension techniques used for the rear suspension. There aren't many other options out there, so a more advanced rear suspension is much appreciated. Plus, the pneumatic 17-inch tires make it perform well on bumpy roads.
As for the Hayabusa, its suspension system is a traditional damper-spring configuration. However, the point here is not in the type of suspension but rather in how much you can adjust it.
With the Hayabusa, you can adjust the preload, damping, compression, and even rebound stages with ease. These control the spring tension and squashing speed as well as other factors.
Besides that, you also get to see pneumatic tires with a 17-inch diameter that provides enough loft for a comfortable ride.
Overall, both the Suzuki Hayabusa Vs. Yamaha YZF R1 have a lot to offer. But due to how well it controls the suspension, the Yamaha is the clear winner here.
Road Grip: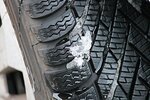 Engine power and suspension are crucial for a comfortable ride. But we can't conclude without considering the road grip here.
In this regard, both the Hayabusa and the Yamaha are sports bikes. They've been designed to conquer the road with immense speed and precision. And since they're made to be run at higher speeds, they both feature an excellent grip on the road.
I found there to be minimal differences between the two in terms of their grip on the road. However, I did notice that the Hayabusa was slightly faster, which made it harder to handle to begin with. The Yamaha was a bit easier to control in tough situations, such as around corners.
But it would be unfair to talk about road grip without talking about the brakes here. The Hayabusa uses ABS brakes on both its front and rear wheels. This type of braking system ensures that your bike won't get locked during high-speed braking, maintaining traction.
This technology is not present in the Yamaha, though it does have more efficient brakes. Because of this, the Hayabusa wins this round. Its brakes are safer and retain traction with the road.
Transmission: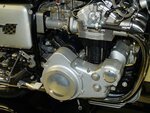 When talking about top-speeds and torques, it becomes crucial to discuss the transmission. Both the Suzuki Hayabusa Vs. Yamaha YZF R1 feature a 6-speed transmission, which isn't all that surprising on a performance bike. Both the transmissions are manual, however. So you'll need to keep an eye on your speed at all times.
These bikes make use of multi-disc clutches, which are commonly employed in vehicles that need to save space. The clutch and transition feel smooth on both bikes.
However, I did feel it a lot easier to switch between gears in the Yamaha than the Hayabusa. This is due to the bike's lighter weight, which puts a lesser load on the wheels and makes gear shifts a whole lot faster.
For this reason, I'd have to declare the Hayabusa slightly better in terms of transmission than the Yamaha. But when you look at just how similar they are, there really isn't much distinction.
I must warn you about the "second gear problem" that's present on both bikes. This is when your bike makes a slight shift from second gear to neutral and then back to second gear. It's not a lot, but it's significant enough to be noticed.
Similarities of Suzuki Hayabusa Vs. Yamaha YZF R1
Wheels:
Both the bikes feature similar wheels. The wheels on the Hayabusa and the Yamaha are both 17 inches in diameter and made from aluminum alloy. Aluminum is a rustproof metal that's cheap and impact-resistant.
The only difference in this regard is the type of tire. The Hayabusa uses tubeless tires, whereas the Yamaha uses regular tubed tires.
Indicators and Gauges:
The indicators and gauges featured on the bikes are quite similar. Both bikes feature an analog tachometer, a gear indicator, a fuel warning indicator, a low oil indicator, and a low battery indicator.
You also get a fuel gauge along with a speedometer. But the speedometer is analog in the Hayabusa and digital in the Yamaha.
Suzuki Hayabusa Pros and Cons:
Pros:
Higher top-speed
Adjustable suspension
Safer brakes
Better traction on the road
Slightly faster transmission
Cons:
Heavier model
Weaker suspension
Yamaha R1 Pros and Cons:
Pros:
Lighter body
Stronger suspension
Digital speedometer
More sporty design
Easier to handle
Cons:
Lower top-speed
No ABS brakes
Conclusion
So what's the final verdict? Which bike is better for you: the Suzuki Hayabusa Vs. Yamaha YZF R1?
When comparing the differences and looking at the similarities, the Hayabusa seems to be the better contender. It has a higher top speed, which makes it the better choice for racing and touring. The brakes on it are a lot safer due to their anti-lock construction, a perk you don't get with the Yamaha.
But that's not to say that the Yamaha is any less magnificent. Indeed, if you want reliability, the Yamaha should be your ultimate choice. It has much more precise engineering and doesn't over-exhaust itself.