Are your motorcycle grips losing their functionality? Want to change them but do not want to use that achy glue? Do you want to install motorcycle grips without glue? Well, this post is going to sort things out for you.
Installing your grips can significantly rejuvenate your riding experience. It is because these grips are the points where you are directly in contact with your bike. And of course, you are controlling your ride mainly from this area, so it needs to feel good.
So, learn everything you want about how to install motorcycle grips without glue by scrolling down and reading further.
What Do Grips Do?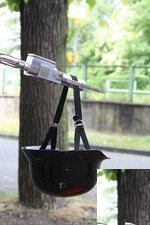 So, why install new grips after all? Hand grips on your motorcycle are not there to add to the aesthetics of your motorcycle. Instead, these hand grips have a dual purpose of serving. They keep your hands comfortable against any vibrations or shock, and they provide critical information to your meathooks.
These are two completely different jobs, but they both are vital. The good thing is that you can conveniently install a new set of grips pretty easy peasy.
If you are handy enough and have just a little DIY experience, you can pop a new pair of grips on that sled within an hour. You can give your motorcycle a new look and feel without even paying a visit to your local mechanic.
These grips can keep you comfortable during your ride and prevent your hands from slipping or getting tired during wet conditions or long rides. And, of course, they can add to the overall looks that your motorcycle has.
How to Install Grips without Glue?
The process might seem a bit tricky, but it is not. We highly recommend to keep your motorcycle's manual to begin and finish the process without any guesswork.
If you are doing such installation work for the first time, it is better to do it in your spare time and do not rush it no matter what. Keep in mind not to do it just five minutes before you go out for a ride.
Based on the type of grips you are installing on your motorcycle, the process of installation and replacement can range from easter to super easy.
The Theory
Grips come in two different varieties; there are integral-tube and plain rubber grips. The rubber grips are very simple to install and replace, just like the ones present on golf clubs and bicycles.
You can slice off the old rubber and slide on the new rubber over your handlebars. Identify this type of rubber grips that are soft and squishy.
The integral-tube grips have a throttle sleeve that is built right into the right-hand grip. They are expensive than the traditional rubber grips, plus the installation process is slightly trickier. But these grips come in a variety of looks and textures.
You can conveniently identify these grips with their hard plastic tube on the right side. This tube is the throttle sleeve. Some rubber grips need disassembly of your controls, but most of them do not. Hence, you will have to get into your control boxes when installing all integral throttle tube grips.
Apart from that, how your throttle is actuated is another factor that can affect your installation. Many bikes use the cable-operated throttle. But in most new motorcycles, there is a sensor on the throttle, and it sends an electrical signal to the motor that is present on the throttle body itself.
These bikes are typically referred to as fly-by-wire. You can easily find out which type you have by having a look at your right-hand box. If there are a couple of thick cables coming out of it, you do not have a fly-by-wire bike.
How to choose the right grips?
Choosing the right grips is not always an easy task. Air-cooled Harley riders have to choose between throttle cable or fly-by-wire grips.
It is because the diameter and grip lengths are always the same. But when it comes to other motorcycle brands, these lengths and diameters are always going to vary.
Therefore, you have to buy the right dimensions of grips, and you cannot just use another motorcycle's grip on any other sled.
Moreover, you have to make sure that you have selected the right parts, or the entire installation process will take you days as you wait for the new parts to arrive. So, let's find out how to install motorcycle grips without glue?
Removing those old grips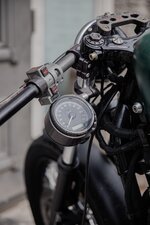 Before you can install new grips, you will have to remove the old ones, no? So, how to remove those old grips? Unfortunately, removing those grips can be an art with a hint of butchery.
First, you might have to remove a bar end weight, and for that, you will have to unscrew that fastener that keeps your bar weight clip-in.
Loosen the bolt
To do that conveniently, you must loosen the bolt right at the end of the bars (just a few turns) and then pull. If this bar end comes out, you have the rubber expansion grip.
And if it doesn't come out, then keep unscrewing. Finally, you will find a threaded bung that is loaded into the bar.
If you loosen the bolt all the way and your bike features a rubber expansion grip, you will have to chase around all the hardware that will fall out from the handlebar, and it can be a pretty time-consuming chore.
Cutting off the rubber grips
Many rubber grips, regardless of the motorcycle brand, are easy to cut off. However, you will trash these grips anyway, and cutting them with a box cutter will make the entire job less tedious.
Some people even have to use compressed air blasted using an air-blow gun to save the old grips. So, there are times when it works well, but not in every case.
You can also use a bit of kerosene oil under the grips to loosen them. But this process is going to take a while, and it is also pretty messy.
If you are trying to remove an integral-throttle grip, you will have to go through a bit more work. You will have to adjust the throttle cables first to create some slack. You can also check your manual if you are not 100 percent sure how to do it.
Splitting open the clamshells
The next step is to open your switch housings or clamshells. Of course, all bikes have different construction, but generally, you will have to loosen some fasteners and carefully separate the two halves of the housing.
You can apply your common sense here because there will be plenty of electrical stuff in your way. No hamfisting because your throttle actuator is an expensive component, so be careful while handling it.
After you have split your clamshells, yank the clutch-side grip off. You might have to put in some effort here, but it will come off. Then, on the throttle end, slide the cable out of the throttle tube.
Installing Grips Without Using Glue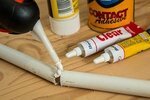 So, how to install your grips on your motorcycle handlebars without using glue? There are different processes to deal with rubber grips and throttle-tube grips.
Installing rubber grips
If you have removed your rubber grips and have taken off the clamshells, it's time to put them back. Rubber grips are fast to remove and install, and they are pretty cheap too. So, you can conveniently manage frequent replacements without any trouble.
You can install your right-side grip first if you need to have the design clocked in a certain way. For example, you can use a bit of isopropyl alcohol in your grip and then slide it right on your handlebar.
Make sure not to let the grip twist as you are installing it. If there is a pattern on it will look pretty silly with a twisted position.
Also, make sure to finish your installation by sliding it on carefully. Your bar can even cut like a cookie-cutter, and you do not want that to happen with your new soft grips.
If you have bar-end weights, then it's time to bolt them in now. Now, give your grips about 24 hours to settle down, and then you can take your bike out for a spin.
Installing throttle-tube grips
You can start your installation process on your throttle side. It is critical if you have a fly-by-wire motorcycle. First, you have to see how the grip has been clocked. If a design has to be clocked in a certain way, you have to get it right.
The clutch can be adjusted anytime, but that is not the case with your throttle side. It is due to the serrations of the throttle mechanism. You can slide a new tube along the grip assembly onto your bar.
Make sure to rotate the grip slightly to get the teeth in your throttle tube aligned with the teeth on your throttle tube. No gell the throttle sleeve back into the control boxes and button them up.
For cable grips, install the grip of the tube right onto the bar. Then, reinstall the enable ends, and you will have to be fiddly because you must guide the barrel-shaped end specifically in the hole orientation.
You can get more cable slack by opening and closing the throttle. Now, adjust the slack back, and you can refer to your manual if you do not know how to do it.
If there is a clamshell, you can follow the same procedure as mentioned above. But let your motorcycle rest for about 24 hours, and take it for a spin.
FAQs
How do you put on motorcycle grips without glue?
You need to heat your grips using a hairdryer. Use split lube or WD-40 or even isopropyl alcohol on your grips and your bar. Now start working those arm grips onto your handlebars. You can blow air between your handlebar and your grips using an air compressor if you want.
Can I use hairspray as grip glue?
Yes, you can use hairspray or paint as your grip glue for some extra assurance. These grips can stick on your handlebar and will prevent your grips from moving. But let them rest for at least 24 hours before you take your motorcycle out for a ride.
How can I remove kuryakyn grips?
Remove the left end cap and blow some air into your handlebar. Your right throttle grip would bulge and loosen, which would be rough for you to remove. Instead, you can reinstall your throttle grip without glue and use the same technique to lessen the left grip.
Conclusion
How to install motorcycle grips without glue is not that difficult. However, you need to be a little bit more careful with your approach. If you have rubber grips, it's just better to cut them off to save time.
But if you have throttle-tube grips, you will have to be a bit more careful. You can use isopropyl alcohol as lube to put the grips on. But make sure you let your bike rest for at least 24 hours and take it for a ride.