Own an old motorcycle and deal with a corroded engine? Don't worry; you are not alone. Many people own vintage motorcycles and have to go through a lot to keep oxidation off the engine. If you are dealing with corrosion and rust, this guide will help you in more than one way to keep it in tip-top condition. So, scroll down to read further how to clean a corroded motorcycle engine.
How Can You Make the Rust Go?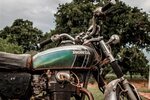 So, how does a motorcycle engine rust, and what can you do to get rid of it? For removing rust and corrosion from your bike engine, you will need some acidic components. It is critical because acids can react with the rust and help in dissolving it. Most bike engines are made of steel or aluminum.
These engines are vulnerable to oxidation due to oxygen in the air. The process becomes much faster if you expose your engine to humid conditions or water. The rust on your engine will appear yellowish, and it will coat your entire engine.
With the use of acidic cleaners, you can dissolve this coating. Then, make sure to use sandpaper to rub the rust off and polish your engine in the end. With polishing, you are coating your engine to prevent its exposure to oxygen again.
This polish will deteriorate over time with exposure to water as water dissolves the polish and makes your engine exposed to the oxidation process once again. That is why polishing is essential.
Methods to Clean a Corroded Motorcycle Engine
Dealing with a corroded motorcycle engine? Here are some steps that you can follow to solve this problem on your own without paying for a professional service.
Using baking soda and vinegar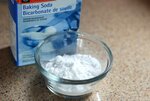 The two most affordable and practical items that you can use to deal with corrosion on your bike engine are baking soda and vinegar. Vinegar is acidic, and baking soda has cleaning powers. Therefore, they both work on all kinds of rust. Here are some steps that you should follow:
Unplug all your cables from your bike's engine and detach your bike pedal to have more space to work on your engine conveniently.
Now, take a dry piece of paper and eliminate any excess dirt present on your bike's engine.
The next step is to take vinegar and put it in a spray bottle. Then, start spraying it all over your bike's engine and leave your bike for about a couple of hours.
Now, take sandpaper and start rubbing all the rust from your bike's engine.
You can mix baking soda with water and start washing your bike's engine with this solution thoroughly. Double-check to ensure that no traces of oxidations are left on your engine.
Now, take a plain piece of cloth or paper and clean out any water from the engine. Leave it to dry entirely.
In the end, you will need to polish your engine and make sure that you coat it entirely for a better shine. Your bike engine is fully oxidation and rust-free now.
Using soda splash machine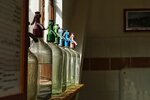 Another method that is effective in cleaning corroded motorcycle engine is using soda splashing or blasting machines. These machines can spray soda-based mixtures fast to get rid of any dirt or metal oxidation for bike engines. Here are some steps that you can follow:
You need to go for an air compressor and a soda splash bottle with it. Open the nozzle on the bottle and fill it up with baking soda.
After filling the bottle, put the pipe inside the compressor and tighten its lid. Plug in the air supply with the sprayer.
Take your blaster near your engine and start the compressor by pressing the trigger. The soda will start blasting from the nozzle and start gathering over your engine. Keep the trigger on until the bottle is empty. Then, allow the soda to dry for some time.
When you see the soda has changed its color, get rid of it with the help of a brush. Work your way through those tiny corners and crevices in your engine. It will get rid of the oxidation coating, and your bike engine will look just like new.
Polish your engine in the end and make sure to coat your entire engine with the polish. Your bike engine is not free of any corrosion or rust. 
Using hydrochloric acid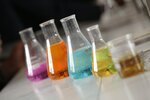 Hydraulic acid or muriatic acid can deal with heavy rust and corrosion. You can find a bottle of this acid in cleaning accessory stores. It has a strong acidic nature, so you will have to be careful while using it to clean your bike's engine. Here are the steps that you need to follow:
Make sure that you dilute your hydrochloric acid with water and make a solution. Do not use it directly on your engine or any other surface. Also, use gloves and wear a glass mask for safety.
You can take your engine out from your bike and dip it into the solution. Keep it there for about five to six hours. During this time, the acid will react with the corrosion.
After that, you need to make a solution of water and baking soda. Take your engine out of the acid solution with caution and pour your baking soda mixture on it entirely. It will remove any remaining rust from your engine and neutralize any leftover acid traces.
Clean your engine using a dry piece of paper or towels and polish it in the end.
Using sandpaper and polish
One of the methods you can use to clean a corroded motorcycle engine is sandpaper and polish. It is especially the case if you do not wish to use any acids or solutions. But this task is quite strenuous but will get the job done quite well. These are the steps you should follow:
First, you have to set up your sand plate in its machine. Set its speed to Medium and press that trigger. Start removing all the rust from your engine's body. Doing this will get rid of the rust but will leave some scratches on your engine too.
Clean those engine fins using metal scrubbers and then take sandpaper and rub throughout your engine. It will make those scratches go away.
The last step in this process is to use a polisher. You can go for an aluminum polisher or steel posher based on your engine materials based on your needs. By doing so, you will hide any scrubbing effects and bring back that old glossy surface that you love.
Using citric acid
One of the safest and most effective solutions in how to clean a corroded motorcycle engine is citric acid. As it is a weak acid, using it does not involve any threats to your health or your bike's body. But it will take longer to treat the rust away. These are the steps to follow:
Take a large pack of citric acid and mix it in five liters of water.
You can take your engine out of your bike and dip it in a solution of water and citric acid.
Citric acid is weak, and it will react with the oxidation of your engine gradually. Therefore, you will have to leave your engine for at least 24 hours.
Make a mixture of baking soda and water, just like you did in the case of hydrochloric acid.
Wash your engine with this water and baking soda solution and make sure that no traces of acid are left behind. Your engine will come out as good as new. Then, it is time to polish it to complete the process.
FAQs
What should I do to polish my motorcycle fins?
Those engine fins are pretty tough to reach. Therefore, they are hard to polish and clean. Rust does get stuck into these regions, and it is pretty challenging to get rid of. Hence, you should go for a long metal scrubber.
You should put this scrubber inside the fins. Rube with goof force, and it will clean the rust away. Now, take a thick brush and apply the polisher inside the fins.
Are aftermarket solutions better than homemade solutions for cleaning engines?
You can use aftermarket solutions and homemade solutions for cleaning your bike engines. Baking soda and vinegar are the best homemade solutions. Otherwise, you can go for commercial degreasers or cleaners for this purpose.
How can I clean cast aluminum motorcycle engines?
Cast aluminum is different from light aluminum. If you have a cast aluminum engine, you will have to clean it with a mixture of water and tartar.
You can make a solution with these ingredients and boil it. Leave your engine inside the boiling solution for about four hours. It will clean your cast aluminum engine adequately.
What should I do if my bike engine is heavily corroded?
If your bike engine is heavily corroded, you can use hydrochloric acid to eliminate the oxidization. It is the most effective way of dealing with heavy oxidations. But you will have to be careful in using it, and it is pretty strong.
So, protect yourself with gloves and a face shield and dilute the acid with water to keep your engine from any acid damage.
Conclusion
Thinking about how to clean a corroded motorcycle engine for a long time?  Well, now you know how to do it on your own in your garage with some homemade solutions. In most cases, you will find baking soda and vinegar the best solution for safe handling.
But if you are dealing with some heavy oxidations, you can go for a hydrochloric acid solution. Of course, you can always use commercial degreasers for this purpose too. However, no matter what methods you are using, polish your engine, in the end, to keep it safe from any exposures.