Interested in buying a sports bike but can't decide between Honda CBR1000RR v.s Yamaha R1? Sports bikes are pretty awesome. They are all about speed and thrill. These bikes are built for racing. So if you are looking to be the ultimate king of the road, this is what you need to ride.
The Honda CBR1000RR (top speed: 189 miles an hour) and the Yamaha R1 (top speed: 182 miles an hour) are the two best-selling bikes on the market. Both these rides are classic sportsters in terms of looks and performance.
But which one of them is better and more importantly which one of them should you go for? In today's post, we will find everything about them.
Industry History
Honda
Honda has been around for so many years and there is a reason why it has been the top manufacturer in the motorcycle business. The company is highly regarded for its reliability and resilience. It has also participated in numerous championships and is well-known for its quality engineering.
Yamaha
Yamaha is also among the leaders and famous for its innovation. Plus, Yamaha has been gaining momentum in introducing a new design and looks for quite some time. So, if you are looking for a ride with the latest technology, you should go for Yamaha. In terms of performance, the brand is second to none.
Honda CBR1000RR vs. Yamaha R1 – An Overview
The CBR1000RR 2021
The CBR1000RR is one of the best-selling bikes by Honda. It is the most powerful production bike in the sports category and performance. We all know Honda never compromises on quality. They know what they do best, and this CBR is the culmination of all that.
The R1 2021
The YZF R1 is a modern era sports bike by Yamaha that relies on its appearance and backs it up well with performance. Naturally, it will not make you zip away against anything. But if you are looking for some stunts, the R1 is the right option for you. Exceptional engine with high-performing suspension, the R1 is a force to be reckoned with. 
Comparison Chart
| | | |
| --- | --- | --- |
| Features | Honda CBR1000RR | Yamaha R1 |
| Fuel and vehicle type | Petrol sports bike | Petrol sports bike |
| Fuel tank capacity | 4.3 gallons | 4.5 gallons |
| Engine type | 4-cylinder inline, liquid-cooled engine | 4-cylinder, inline DOHC, liquid-cooled engine |
| Displacement | 998cc | 998cc |
| Maximum power | 153.2 HP @ 10,600 RPM | 200 HP @ 13,500 RPM |
| Maximum torque | 84 lb-ft @ 11,000 RPM | 112.4 Nm @ 11,500 RPM |
| Gear transmission | 6-speed w/ multi-plate slipper clutch | 6-speed slipper clutch w/ wet multi-plate assistance |
| Rear and front suspension | Big piston fork w/ 4.3-inch travel and mono-shock w/ 5.2-inch travel | Fully adjustable inverted fork (4.7-inch travel) and fully adjustable monoshock (4.7-inch travel) |
| Rear and front brakes | Dual radial-mounted disc brake and single disc brake | Dual hydraulic disc and hydraulic disc (both with ABS and brake control system) |
| Rear and front tire | 120/70ZR17 and 190/50ZR17 | 120/70ZR17 and 190/55ZR17 |
| Wheelbase | 55.3 inches | 55.3 inches |
| Seat capacity and type | 2, dual stepped | 2, dual stepped |
| Seat height | 32.3 inches | 33.7 inches |
| Ground clearance | 5.1 inches | 5.1 inches |
| Weight | ~428 lbs | ~448 lbs |
Engine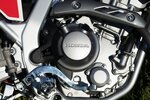 which bike has a better engine: Honda CBR1000RR vs. Yamaha R1? both these bikes are pretty much equal when it comes to engine power.
The CBR comes with a 4-cylinder inline engine with 998cc displacement. This engine is built for speed. With the lightweight design, you will maximize the throttle twist like a pro.
On the other hand, the R1 also comes with a 4-cylinder inline DOHC engine to carry some additional weight that R1 has. This bike is all about gaining momentum and delivering acceleration.
But you might ask, which throttle twist is going to be more impressive? In he CBR is way better than the R1 because it will give you that instant acceleration as soon as you hit the throttle.
But which one of these rides comes with a heavier clutch? Well, both these bikes are built for speed, so shifting will not be an issue at all. They both have a very smooth clutch.
what about the engine sound between Honda CBR1000RR vs. Yamaha R1?has the upper hand because its engine can produce more power in short bursts and extend them over longer periods. Liquid-cooled inline engines are well known for that.
The R1 also comes with a similar engine, but being heavier, the sound will not go right away. As R1 gathers momentum, you will notice that screaming is as good as anything. But this thing is instant with the CBR, which puts this bike ahead of the R1.
Weight
As we have already mentioned, the CBR is the lighter of the two, which gives this bike a lead over the R1. It weighs around 428 lbs, while the R1 weighs approximately 448 lbs. So, for speed and agility, the CBR is definitely at an advantage.
But the R1 being slightly heavier, will provide you with the stability and balance you need when going at speeds around 180 miles an hour. In addition, you will notice that the R1 has significantly better control, giving the rider more confidence during the ride.
However, it's not just about stability and control here. The R1 also comes with a slightly bigger fuel tank of 4.5 gallons than the CBR's 4.3-gallon tank.
Maneuverability and edging will be better on the CBR because of its lighter weight, and for experienced riders, this thing matters the most. But for a newer rider, the R1 will be a better performer because it has that extra bit of edge when handling.
So, overall in terms of weight, the CBR is a better option for an experienced rider, but the R1 cuts it better for a beginner.
Suspension and brakes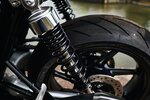 Now which bike handles bumpy roads well with a better stopping power? Well, this one will be a little tricky to answer.
The reason is that CBR has a better rear-wheel travel (5.3 inches) than the R1's (4.7 inches). On the other hand, the R1 has better front-wheel travel (4.7 inches) than the CBR's (4.3 inches).
Still, the CBR's big piston fork on the front end and mono-shock at the back end does a fine job. So, you can perform some rear-wheel stunts pretty well on it.
However, the R1's adjustable inverted fork on the front and the rear mono-shock works well to perform some front-wheel stunts. So, the overall ride comfort is there, but the CBR is better in this category.
Nevertheless, the R1 comes with better stopping power. And rightly so, because it has a bigger weight to handle. It is equipped with hydraulic disc brakes on both ends.
The CBR features mechanical disc brakes, which are great but not better than the R1's hydraulic disc brakes. With perfect stopping power, these mechanical disc brakes are more prone to wear and tear. Overall, in terms of stopping power and brake performance, the R1 is a better ride to go for.
Ergonomics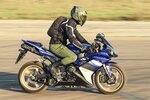 Where do your feet and arms rest while riding these bikes? Both these rides are sports bikes and they are very similar in their ergonomic design and construction.
Your sitting position will be aggressive with your feet slightly behind your body and your back leaning forwards with your hands extended as well.
Both bikes come with similar ground clearance and a wheelbase. But the CBR is slightly ahead with its lower seat height. As a result, you will feel more control in your ride during brisk speeds, and with a lightweight, it's even better. In addition, the CBR is more aerodynamic in its design than the R1.
Thinking which bike is better on those single-lane u-turns? With a lower seat height, the CBR will put you in a more confident state making such turns. So, this round also goes to the CBR, but only by a minor difference.
Looks and aesthetics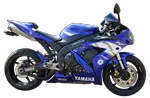 which bike do you look back at after walking away? It will be a tie here because both these rides look pretty intimidating. However, they come with the classic sports look with their design features. Turn the lamps on and you will see that they both have their own aura. No matter which one of them you own, you will feel proud having a look back at them in the parking lot.
The CBR comes with two different color options to choose from. It is available in red and black.
The R1, on the other hand, comes only in blue color. So, if you are a fan of the cool blue, you should go for the R1. And if you like the universal-classic black or a piping hot red, the CBR should be your choice.
Pricing
How do these bikes compare in terms of price? Again, there is not much difference between the two bikes, but the CBR costs you about a thousand dollars less.
For example, the R1 comes with hydraulic disc brakes that are better than the CBR's mechanical disc brakes in terms of wear and tear. Moreover, the R1 also features hydraulic disc brakes that provide you with better stopping power than the mechanical disc brakes on the CBR.
These are little things that matter, and every upgrade has its cost as well. So, both the bikes are priced pretty well and provide you the best bang for your buck.
Honda CBR1000RR vs. Yamaha R1 – The Similarities
There are more similarities than differences between both these bikes. But to give you a better idea, here are a few characteristics that match entirely.
Fuel and vehicle type
Both bikes are Sportster and run on gasoline. The only difference is, the R1 comes with a slightly bigger fuel tank capacity than the CBR.
Engine type and displacement
The CBR and the R1 both come with 998cc inline engines with 4-cylinders and liquid-cooled configuration. The only difference is that the CBR produces much better sound right from the throttle twist.
Gear transmission
They are equipped with a 6-speed multi-plate slipper clutch and operate smoothly.
Sitting capacity and type
R1 and CBR have a sitting capacity for two people with dual stepped sitting types. The only difference is, the CBR has a slightly lower seat height.
Honda CBR1000RR vs. Yamaha R1 – Pros & Cons
Honda CBR1000RR
Pros
Higher top speed.
Lower seat height.
Lighter weight.
Excellent suspension.
Superb engine sound, right from the word go.
Cons
Mechanical disk brakes are prone to wear and tear.
Yamaha  R1
Pros
More stability and control.
Better stopping power.
Bigger fuel tank.
Better power and torque.
Cons
It's a heavier vehicle with a higher seat height.
Conclusion
So, Honda CBR1000RR vs. Yamaha R1: which one is better? We think the winner of this comparison between the two is the CBR1000RR because of its better aerodynamics overall.
This is the bike that is built for speed and agility. So if you are looking to perform some stunts on it, you won't be disappointed. You will get a better throttle response and a great sound as well.
Due to its lightweight construction, you will be able to maneuver the bike pretty well too. And the best part is, it comes in two different colors. It's an absolute treat to ride this bike on the highways and in the streets.