Why Novusbike review? When attendees gathered at the 2019 International CES, they didn't expect to see an e-bike made head-to-toe from carbon fiber. But, yes, that's how shocking the Novus's reveal was.
There is a lot more to it than the carbon build. Just take a look at the Novus electric motorcycle, and you'll know what we mean.
This premium electric bike has a unique design that ultimately tipped the scales when it was unveiled.
And yes, it costs as good as it looks. But buying it was never an option for most of us. It's that type of bike that most of us can only admire from afar.
With that being said, how does it perform against other bikes? We mean, is it worth the high price tag? Or is the luxury design just that: luxury?
In this Novusbike review, I'll take a deeper diver into the Novus bike and decide whether it's worth buying or not. And spoiler warning for the end: it's a good bang for the buck.
Company Profile and Future Prospects
Novus bike is a bicycle production company that was founded fairly recently. Its founder, Rene Renger, saw the potential for a luxury lightweight motorbike in the market and made it a realization. He founded Novus in 2019 after he invented it with help from his buddy Marcus Weidig.
The Novusbike is a premium electric bike that has a full carbon build. But the first thing to catch your attention is the unique design, which adds a slightly futuristic touch to an otherwise retro design. It looks more streamlined than other e-bikes, with the derailleur and mechanisms hidden inside.
Although mainly in the initial phase, this bike seems to have a lot of potentials. Despite the Novus electric bike price is high, it sees increased demand in the market. And the reasons are all too clear: every single millimeter of the bike has been done to perfection. From the handlebars to the hub motor and even the headlights, every aspect of the Novus delivers.
The company has not released a successor to the Novus bike electric vehicle. But the future is still bright for them. Their current bike model is the NOVUS One, hinting at other iterations to come in the future.
Novusbike Team
Novus employs a highly skilled team that puts together this lightweight electric motorcycle. The team consists of 17 highly-trained individuals, each with their responsibilities.
The stars of the team are Rene Renger and Marcus Weidig. Rene Renger is the CEO and founder of Novus Bike and started the company to probe into the limits of bike-making. He defines himself as a "dreamer" who visualizes the impossible and then makes it possible.
Previously, Renger used to work as an industrial car designer at Volkswagen. And now that he has his e-bike brand, his true product designing abilities are starting to shine.
On the other end of the helm is Marcus Weidig, lead developer at Novus and long-time friend of Renger. Marcus is mainly tasked with designing the Novus prototype and constructing it on the spot. He describes himself as a creative person, being the leading man behind the bike's design.
Other than that, the team consists of 15 other people from diverse backgrounds. One is a product designer, while another is a mechanic. One handles CAD design while another is the lead electrical engineer. The team has made their prototype and is ready to launch the Novus electric motorcycle!
Novusbike Review
Novusbike Motor
When it comes to outperforming other electric bikes, Novus understood the assignment. This bike was built to conquer the road with a rear hub motor that spits 14kW of peak power. To be more specific, the Novusbike can reach a top speed of 60 mph or 97 km/h. To compare that with other bikes, it's a lot faster and makes for a quicker commute.
And complementing that is the 200 Nm peak torque outputted by the bike. In contrast, most other bikes have a torque limit of 196 Nm. The difference isn't too far off, but it packs that little punch that ultimately tips the tables.
However, the Novus bike has its limitations. The bike is designed for high-speed urban use such as commuting or cruising. Additionally, the bike is exceptionally good at riding through backcountry roads. Just don't take it out for a long adventure. It's neither suited for the dirt nor the highway.
One other thing that adds to the motor's ability is the lighter weight of the bike. Its frame weighs only 6.9 kilos, which, for a human, maybe heavy, but an engine, this is a piece of cake. This is essentially what lets the bike run at higher speeds than other bikes. If you compare its performance with a traditional motorbike, it would be equivalent to a 125cc bike.
Consequently, this significantly raises the Novus motorcycle price. However, it's still worth it, in my opinion, if you need speed and precision.
Carbon Fiber Build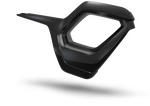 Bikes need to be as durable as they are powerful. And the Novusbike delivers in every aspect. To start with, it has a frame built entirely out of carbon fiber. Carbon fiber is about 5 times stronger than stainless steel and much more lightweight than aluminum.
Additionally, since it's not made from metal, it's not susceptible to corrosion, at least not under normal conditions.
Carbon fiber packs one other benefit: it's scratch-resistant. But, again, this isn't a property seen in steel or aluminum. The only drawback that comes with carbon fiber is the higher cost. It's what raises the Novus one price so high. But that's not to say the pricing isn't well-deserved.
Battery Life of Electric Novusbike
When on the go, battery life is the biggest concern. But not with the Novus one motorcycle. With a motor that's more powerful than any other bike on the market, you'd expect the battery to run out pretty fast.
But the Li-ion battery on the Novus bike is for 60 miles at full charge. For reference, that's more than the length of a thousand football fields combined. So, it's safe to say you won't run out of juice for a whole week.
Once you do, however, charging up the battery is pretty easy. It comes with its charger and charges up to about 80% in under an hour. That's twice as fast as any other bike. And given the heavy battery on the bike, it's quite surprising how fast it charges.
Speaking of heavy, the battery contributes a lot to the weight of the frame. And that's why it's been placed lower on the bike to allow for a lower and more balanced center of gravity.
There is one significant drawback, however, and that's the fact that the range of the bike is significantly reduced at higher speeds. The 60-mile range of the battery is not at the top speed, which means that you may need to recharge it a bit more often. There are the three power modes, though, that help you better manage your power.
Novusbike Design
Performance and battery life are essential, but let's be honest, that's not the first thing you saw. No, it was probably the frame's unique design, though "unique" is a bit of an understatement.
The frame adds a futuristic touch to traditional bike frames, with a high-profile rear fender and a comfortable seat. In addition, it's made in one piece, defining futuristic.
One of the significant features of the design that stands out, or instead doesn't, is that all the electronics are hidden inside. This means two things. One, your electronic components and mechanisms are all safe against the elements. And two, the design looks much more integrated, with no wiring visible. Considering the Novus bike price, I'd say the design is spot on.
Novus electric bike Riding Modes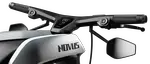 Saving power is crucial if you know you're running low on battery. That's why the Novus one motorcycle features 3 riding modes that help conserve power according to your needs.
The first is the Base model. In this, the power does not exceed 7 kW, and the maximum top speed is only 90 km/h. This mode is excellent for commuting and casually cruising. It saves the most power and will elongate battery life.
Next is the Super mode. In this, your peak power output limits to 11 kW with a top speed of 110 km/h. This mode can be used when you're running late or need to zoom past traffic.
Last is the God mode, which has a peak power output of an incredible 30kW and a top speed of 130 km/h. This mode should reserve only for when you need to reach your destination fast. It's not for most instances and sucks out a lot of your battery's juice.
Novus one bike's Brakes
A safe braking mechanism can be the difference between life and death. That's why the Novus one bike spares no expense at employing the best braking system. To start, it uses dual hydraulic floating caliper disc brakes.
To put that jargon in simpler terms, the brakes are far more superior to other e-bikes. The floating calipers help provide safer braking that stays consistent throughout. As a result, they stay "true" for longer and lead to more predictable braking.
The other plus point is the fact that the brakes use hydraulics. Hydraulics makes for much more efficient braking and works on much lesser pressure than mechanical brakes. The result is a bike that delivers effective and safe braking whenever and wherever you need it.
And if that wasn't enough, consider that the brake levers are from carbon fiber. The design and build quality have been optimized wherever the designers could afford to optimize it. Inadvertently, this also raises the Novus motorcycle price.
Suspension and Forks of Novus bike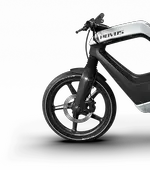 Suspension is near non-existent on traditional bicycles. And on e-bikes, you'll hardly ever find the right balance of suspensive action.
This is a 100 mm front suspension that is central to the design. It contributes to the vehicle's overall look, but it also responds well to the hardest bumps on the road. And the best part is that the front fork is from carbon fiber, which means lighter weight with longer life.
What's more, the hardness of the damper can be adjusted according to what you see fit. This means that people who ride in urban areas can fine-tune the suspension to be as precise or imprecise as they want.
I think many people don't realize the true potential of the suspension because it's well-hidden. The whole design is seamless, which leaves the break tucked away under a carbon body. But the Novus bike features a superior suspension system.
Rims of Novus ebike
Once you take your eyes off the unique frame design, you'll steal glances at the carbon rims. Following the trend of using carbon in its frame, the rims are of carbon fiber. As a result, they provide better traction when on the road. But unfortunately, they're not suitable when off the road. And considering the Novus motorcycle price, off-roading should be on the menu.
Novusbike's Headlight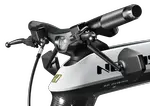 Staying consistent with the streamlined style, the Novusbike incorporates an integrated headlight. However, instead of a traditional headlight, the Novus e-bike uses an elongated bulb that sits flush under the handlebars. What makes it so unique is that the headlight moves with the handlebars, so you're always looking up and front.
Like the headlights, the tail light is also fully integrated, though it looks more traditional. However, there is one major drawback to this design: the headlight faces downward at an angle. This means that you get less light in front of you. Now, these are LED lights, so their illumination area is quite wide. But we would still keep a flashlight at hand.
Novus App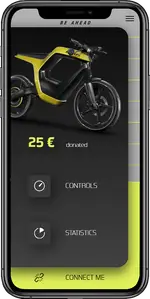 In a world of digital apps and smartphones, this lightweight electric motorcycle wants you to stay connected. That's why it comes for monitoring all your bike's essentials. In addition, the app can be used on the go for navigation and much more.
The Novus app allows you to monitor your speed as well as power output and energy consumption. Additionally, the app provides information about basic statistics such as miles traveled and how long you use the bike each day.
The app also informs you about how long you use each riding mode, so you know how much power you have conserved over time.
Weight and Capacity of Novusbike
Although a heavier bike may seem more durable, a lighter bike is faster. And the reason is simple: a more lightweight bike can easily move with a weaker motor. Light bikes are also easier to carry and store.
The Novus bike weighs around 6.9 kilos, but that's just the frame. Other components such as the rims, the fork, and the handlebars, will add to that number. This bike has a max weight capacity of 125 kilos, which means it's suitable for heavier people.
One of the most significant drawbacks of its design is that it's only for 1 person. Traditional bikes beat the design in terms of this since they can carry a passenger too.
How Novusbike Is Different from Other E-Bikes
Making a comparison of the product's features without contrasting it with those of others is plain unfair. That's why we compared the bike to other popular bikes, including Batch E-Bike. Take a look:
Novusbike Vs. Stealth Bomber
The Stealth Bomber is a lightweight electric motorcycle that's for the average commuter. And once you read the specs, you'll know why I'm comparing it with the Novusbike.
With a powerful 6.2 kW hub motor and a range of up to 100 km (62 miles), the Stealth Bomber stands neck to neck with the Novusbike. However, when you compare the specs, the Stealth Bomber seems to lead the way. It has a longer range, higher top speed (80 mph), and a higher peak power output.
And that's not all. The Stealth Bomber, much like the Novus e-bike, uses 4 piston hydraulic brakes for maximum efficacy and reliability. The frame is a bit more traditional, though, incorporating chromium-molybdenum type steel. Although this material is stronger than regular steel, it still pales in comparison to carbon fiber.
The Stealth Bomber is still a good choice for people who want a cheaper option. The Novus electric bike's price is a lot higher than this one. Nevertheless, it's an excellent option for daily commuting for people on a budget.
Novusbike Vs. Vanmoof S3
The VanMoof S3 is another e-bike that comes close to the Novusbike in terms of technologies and features. But we find that it trumps in comparison to the Novus based on pure performance. To give you an idea, it has a top speed of 25 kmph, a far cry from the 97 kmph of the Novus.
However, the top speed of the Novus electric motorcycle is merely a limit set by the motor. So, you'll most likely be riding slower than that anyway when on the road. In that sense, the Vanmoof S3 is a pretty close competitor.
One of the things that makes the Vanmoof stand out is the use of the hydraulic brake system. It seems like many more bikes are catching up and going full hydraulic. Additionally, the Vanmoof has a dedicated app. This lends some digitalization to an otherwise contemporary design.
Overall, the VanMoof S3 stands as a lesser powerful yet high-quality version of the Novusbike. It's a good choice for daily commuting, but not so performative on the highway.
Novusbike Vs. Batch E-Bike
The Batch E-Bike is the talk of the town, and rightfully so. This bike delivers a powerful 250W Bosch Active Line Gen 3 motor and a top speed of 20 mph. The 20 mph (32 kmph) top speed is nowhere near that of the Novus TMX bike. However, other features make it stand out as well.
For one thing, the Batch E-Bike has a max range of 80 miles and a minimum one of 30 miles. The average lies somewhere near 50 miles, quite close to what the Novus one bike offers. And it features Tektro Hydraulic disc brakes, similar to those featured on the Novusbike.
Unlike the Novus one motorcycle, however, charging the powerful battery on this bike isn't easy. It can take up to 6.5 hours to fully charge. But we love how it uses an electronic shifter to make gear changing a breeze. The Novus TMX bike doesn't even feature gears, only riding modes. 
The Batch E-Bike is from aluminum alloy, which is not as strong as carbon fiber. And aluminum gets scratches pretty easily. But its price is a lot lower than the Novus bike price, so there's that.
FAQs:
What Type of Bike Is the Novusbike?
The Novusbike is a fully-carbon luxury bike to use on the road. It's good for commuting, cruising, touring, and riding through backcountry roads. However, it's not for intensive applications like off-roading.
What Is the Novus Electric Bike Price?
At $39,000, the Novusbike is one of the most expensive luxury bikes. The Novus one price being so high ismainly due to its unique design and carbon fiber build. Keep in mind that this price is exclusive of VAT.
What Is the Top Speed of The Novusbike?
At its full power in God mode, the Novusbike can reach a top speed of 130 kmph (80.8 mph). In Super mode, the top speed is a bit lower, at 110 kmph or 68 mph. And at average cruising speeds in Base mode, the speed is much lower, at 90 kmph or about 60 mph.
How Powerful Are the Novusbike Motors?
The Novus bike electric vehicle rear hub motor spits out a maximum power output of 30kW. But under regular driving conditions, you can expect up to 11 kW of power, an astonishing number for an e-bike. Moreover, its motor can generate 200 Nm of torque at its peak, which is way more than even the most powerful e-bikes out there.
Final Thoughts
So, it all comes down to that: is the Novus bike worth your time and money? And the short answer is … yes! That is if you have enough of both.
While it certainly has some impressive stats, it's not the kind of bike you would find everyone using. Instead, the bike is more of a collectible given its high price.
Of course, the Novus one price isn't the highest, but the premium design makes it all too good to waste on the road.
All that aside, though, the bike is a good bang for the buck. It features an incredibly powerful motor with hydraulic brakes and a full carbon fiber build. And that's not all. First, there's the futuristic style that will have heads turning your way here and there.
All images are taken from the official website of Novusbike.